Sushi tacos
Cooking Time: 30 minutes Serves: 4
---
gluten-free (check the soy and oyster sauces), protein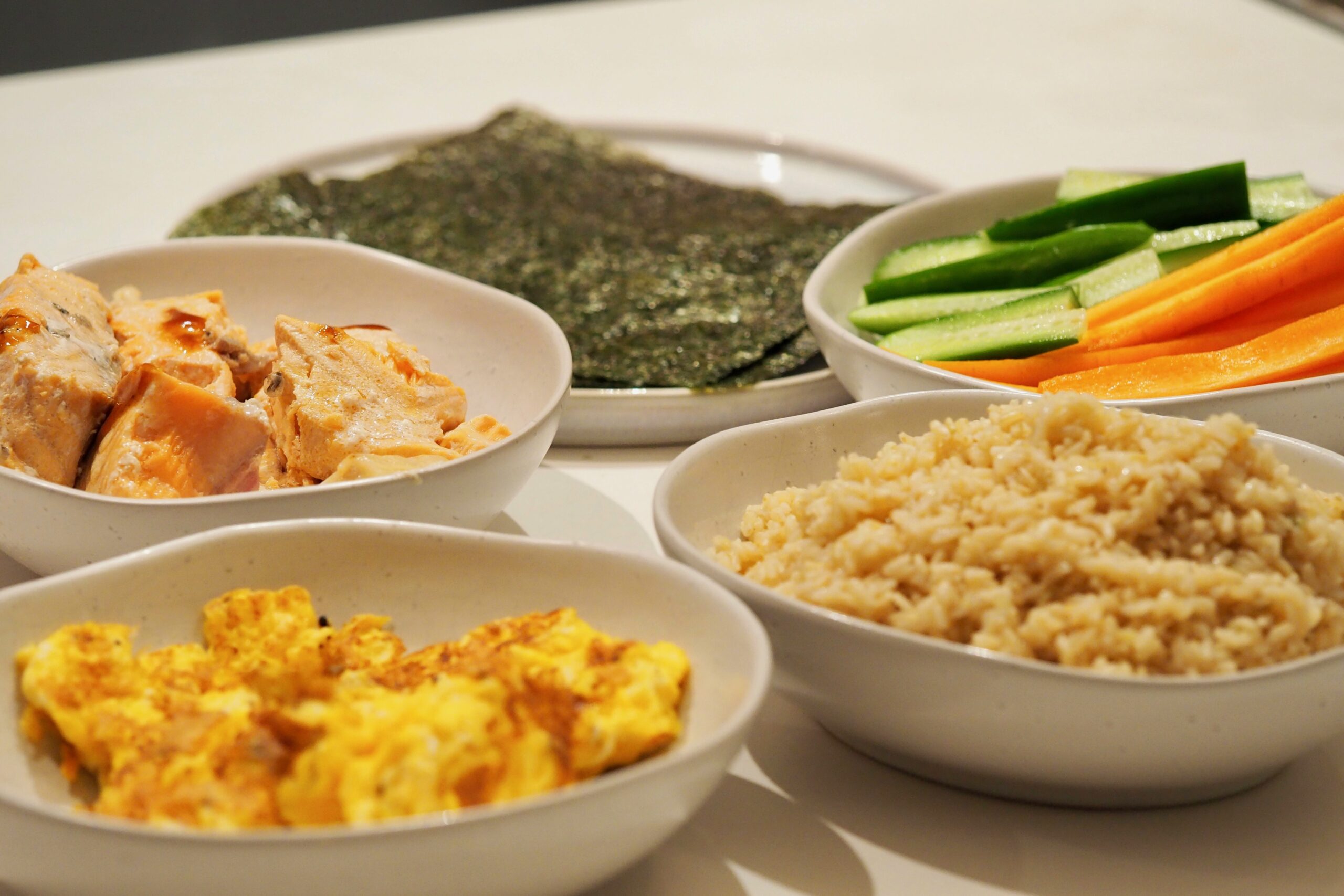 Goodness provided
This is a family favourite and a good way to mix in tastes and textures needed by one person, but not another.
Ingredients
400g boneless salmon fillets
2 cups of brown rice
4 carrots, peeled and cut into thin battons
2 large cucumbers, cut into thin battons
1/2 cup of sushi seasoning
6 eggs
2 tbsp milk
3 tbsp oyster sauce
packet of nori seaweed sheets
wasabi and soy sauce to serve
Method
Cook the rice in a rice cooker, saucepan or a large microwave rice pot for 20 minutes (cover the rice with water). Drain if needed, cool and add 1/2 cup of sushi seasoning
Slice the carrots and cucumber into long thin battons
Beat the eggs with a fork in a large mug and add the milk. In a large non-stick fry pan heat  1 tbsp butter or margarine until it is melted and starting to bubble. Add the eggs and let them flow over the pan. Using a egg flip shape into an omelette (allow the runny egg to run off the sides to cook). When cooked fold the egg in half, remove from the pan, add 3 tbsp of oyster sauce and set aside.
 Add a dash of vegetable oil into the pan, then cook the salmon fillets skin down for 2-3 minutes or until just cooked. Flip and cook for another 1-2  minutes. Remove from the pan.
Place the egg, salmon, carrots and cucumber, soy sauce, wasabi sauce and the nori sheets on separate plates or bowls. Then set out with the nori seaweed sheets and have fun putting together your mix of sushi ingredients. Best to place on one side of the seaweed sheets and then roll or fold like a taco. They are a bit messy but fun to eat.
Nutrition (Per serve)
Energy 607 kcal, Fat 22g Sat Fat 6g, Protein 37g, Carb 60g, Fibre 6g, Sodium 669mg