Easy tuna and tofu poke bowl
Cooking Time: 5 minutes Serves: 4
---
high protein, can just include tofu to make it vegetarian, high in phyto-nutrients and omega 3 fatty acids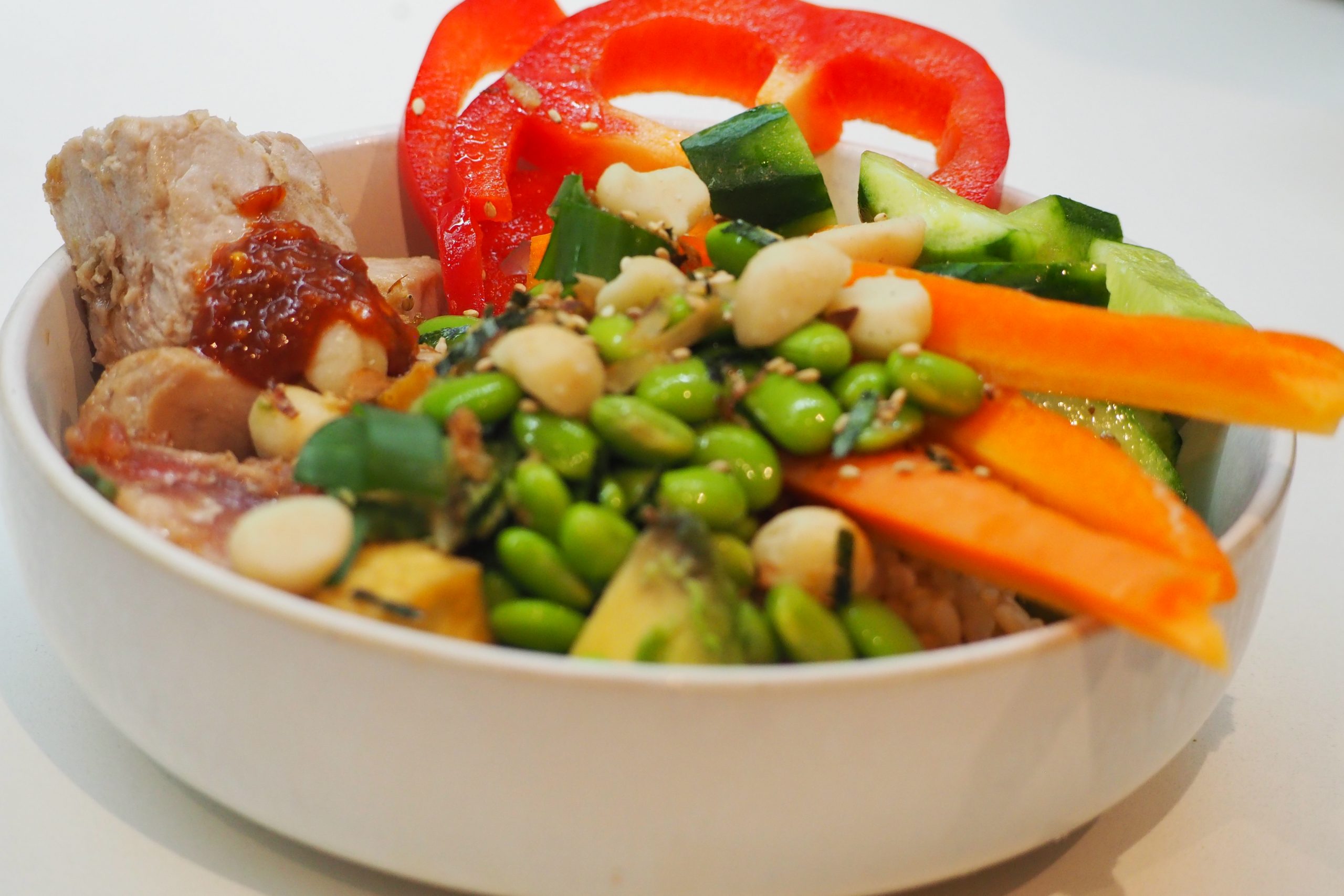 Powered with protein, fresh flavours and a good dose of anti-inflammatory omega 3 fatty acids. Also easy, colourful and delicious!!
Ingredients
400g fresh tuna or large tin of tuna
200g of tofu
7-8 edamame beans (use frozen beans, thaw and then shell)
(mix of chopped vegetables eg capsicum, cucumber cubes, carrot batons etc)
small bag of microwave reheat brown rice
3 tbsp soy sauce
1 tsp mirin (sweet Japanese rice wine)
1 tbsp sesame oil
2 chopped spring onion (green part)
1 tsp chile-garlic sauces (optional and to taste)
11/2 tbsp furikake (a dry Japanese seasoning made of a mixture of dried fish, seaweed, sesame seeds, salt etc)
½ cup of macadamia or other nuts (optional)
Instructions
1. Cut the tofu into cubes and heat in the oven for 20 minutes or in an air-fryer for 5 minutes on high.
2. Cut the tuna against the grain and sear in a large non-stick frypan for 2-3 minutes on either side.
3. Mix the soy sauce, mirin and sesame oil into a large bowl. Add in the gently cooked tuna pieces and the chopped spring onion - adjust the seasonings to your taste
4.  Reheat the rice in the microwave as per packet instructions
5. Add a fist full into a large bowl, a selection of chopped vegetables (cucumber, red capsicum, carrot batons)
6. Add in the tuna (can used canned tuna if fresh is not available), the crispy tofu and shelled edamae beans
7. Then add a good sprinkle of the furikake seasoning (*see note below) or some sesame seeds, add a teaspoon of chilli garlic sauce or siracha (to taste)
8. Then sprinkle over some chopped macadamia or almonds for some crunch
*Furikake is a dried Japanese seasoning sprinkle that contains seaweed, sesame seed, salt and other ingredients. It is available from some Woolworth stores or most Asian or Japanese supermarkets. It is not essential and you can just use sesame seeds or other seed sprinkles.