Bean boosted tomato soup
Cooking Time: 30 minutes Serves: 10-12 (store in the fridge or freeze)
---
vegetarian, high fibre, protein, nitrate and anti-oxidant rich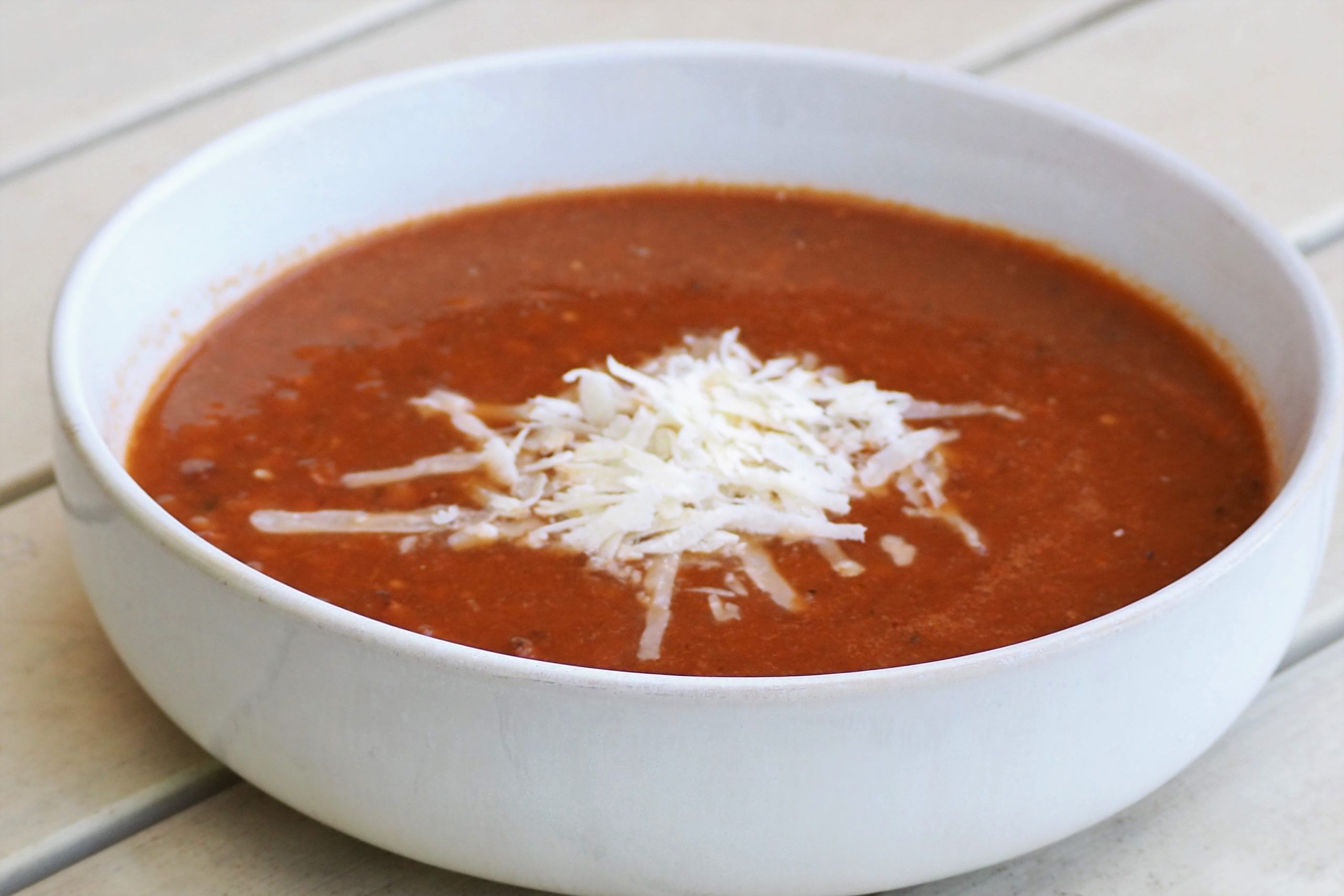 Cooked tomato has a higher concentration of lycopene photo-nutrient flavours. The addition of a dried bean soup mix means extra protein and that you will be carried a lot further through the afternoon
Ingredients
1kg of ripe tomatoes (look for discounted bags of ripe tomatoes)
375g packet of the McKenzie Italian dried bean soup mix (available in most supermarkets)
(if short on time to soak the beans, you can substitute in 2x 400g tins of borlotti beans or lentils)
2 tbsp olive oil
3 cloves of garlic, crushed
1 red onion, finely chopped
2 tbsp tomato paste
2L vegetable (or chicken stock)
1/2 cup of chopped basil
salt and pepper to taste
Serve with a optional grainy bread roll and good sprinkle of parmesan cheese or a vegetarian alternate cheese if preferred
Method
Chop the tomatoes, onion and crush the garlic and put on a large baking tray, add a good splash of olive oil and a good sprinkle of black pepper and salt. Roast in a pre-heated oven at 170C for 20minutes.
Meanwhile add the bag of the dried bean mix into a large pot, along with the chicken or vegetable stock. Bring the stock to the boil and then simmer at a low heat for 40 minutes or until the beans are soft. If you are organised, you can soak the beans in boiling water overnight. That way you just need to add them straight in with the roasted tomato mix and the stock. Otherwise you can use tinned borlotti or lentils.
When the beans are tender, add in the tomato mix, the tomato paste and the chopped basil, bring to the boil and then using a hand-held bamix - blend the soup until it is smooth. You can also add the soup mix into a blender and pulse until it is smooth. Season to taste with pepper and a touch of salt if needed
Then serve the soup with a grainy bread roll and a good sprinkle of a quality parmesan cheese. The soup can be kept in the fridge for a week or frozen for up to 3 months.
Nutrition per serve: Energy 248 kcal, 7g fat, 2g saturated, 21g protein, 28g low GI carbs, 8g fibre, 826mg salt.