Superfood Breakfast Cookies
Cooking Time: 30 Minutes Serves: 8 cookies
---
High protein, fibre, antioxidants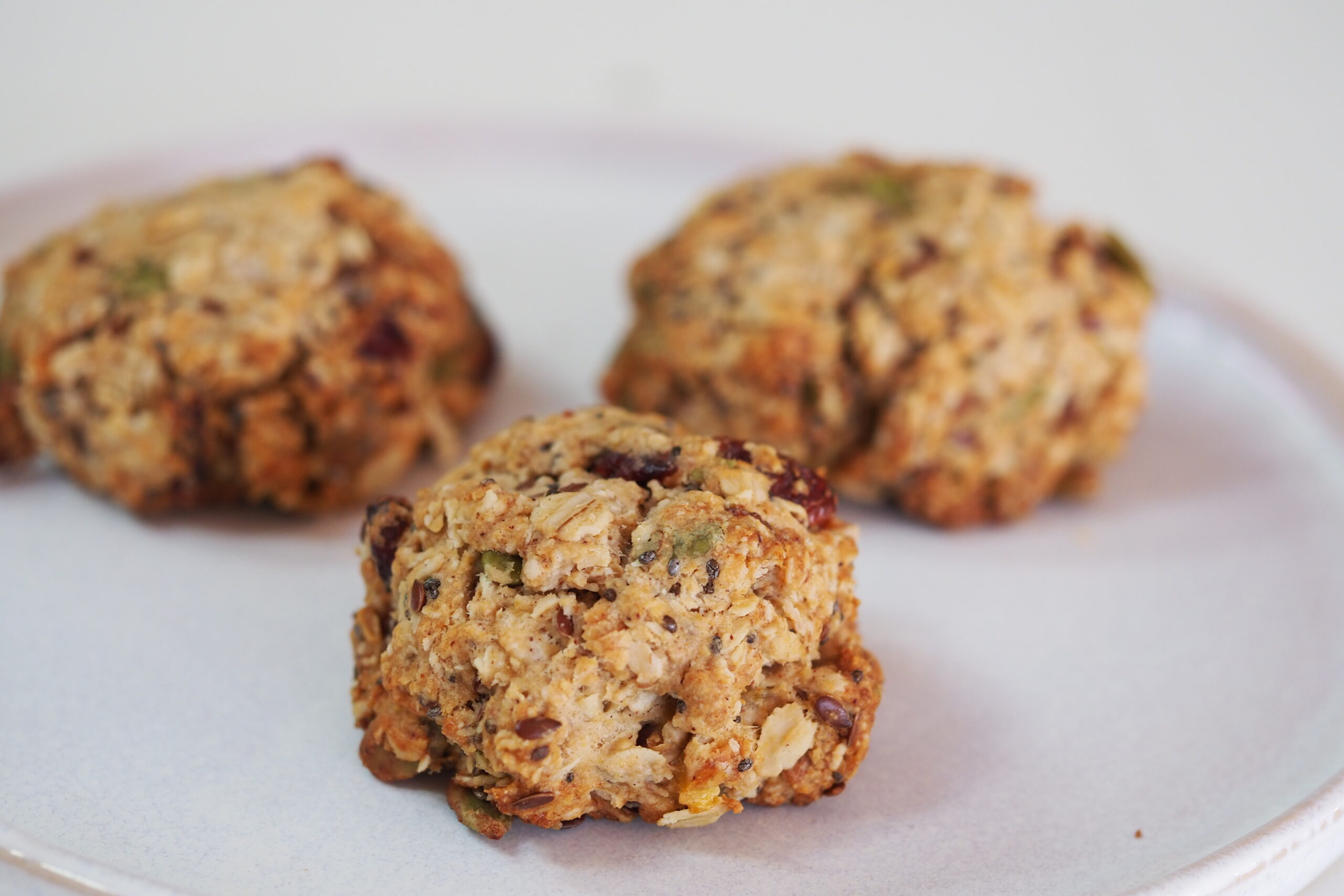 Ingredients 
1 cup whole rolled oats
½ cup wholemeal self-rising flour
½ cup dried cranberries, raisins, or other dried fruit
½ cup unsalted pumpkin seeds (pepitas) or other seed/nut**
¼ cup flaxseed
1 tbsp chia seeds
1 tsp cinnamon
½ tsp baking powder
¼ tsp salt
1 large mashed banana or ½ cup applesauce
3 tbsp melted coconut oil or margarine or butter
3 tbsp honey, or other liquid sweeteners
2 tbsp low fat milk (can use alternate milks)
1/2 cup of skim milk or protein powder
Method
Preheat the oven to 180C. Place a a piece of baking powder on a large baking tray
In a large bowl mix together the oats, flour, cranberries, seeds, cinnamon, salt, banana, coconut oil, honey, milk and skim milk powder until the consistency is soft. If the mixture feels a bit dry add an extra 1-2 tbsp of milk
Scoop a good 1 tbsp of dough mixture and roll into a ball. Place onto the baking tray and flatten with two fingers
Cook in the oven for 15-20 minutes or until golden.
You can also freeze the dough mixture (make it up into balls), then take them out of the oven to cook fresh for a wholesome breakfast or a nourishing snack.
Nutrition per serve:

Energy 167 kcal, protein 5g, fat 9g, sat fat 4g, carbohydrates 19g, fibre 5g