Salmon with white and four bean mash
Cooking Time: 30 minutes Serves: 4
---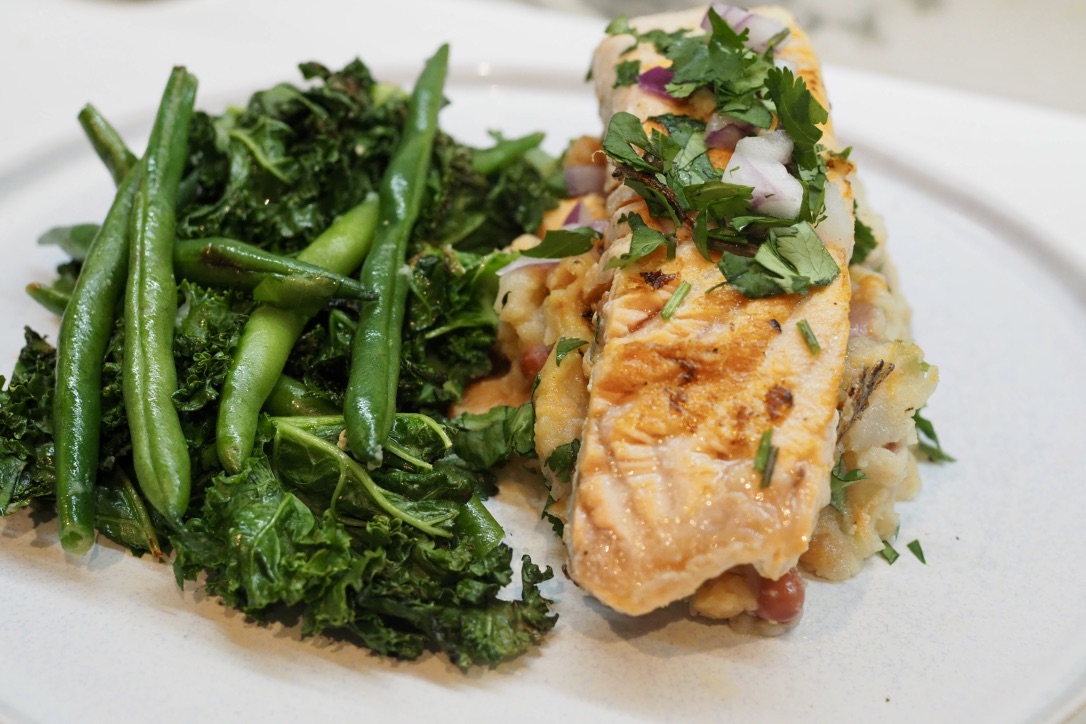 Goodness provided:  Adding legumes such as the cannellini beans and the four bean mix significantly lower the glycaemic index of this meal. Filling, delicious, high in fibre, this recipe will be a regular on the menu. 
Ingredients
1 tbsp olive oil
2 garlic cloves, crushed
1 tsp ground cumin
4 small potatoes
1 tsp finely grated lemon rind
1 x 400g can cannellini beans, drained
1 x 400g can four bean mix, drained
1 tbsp fresh lemon juice
1 cup fresh continental parsley leaves
1/2 a small red onion, halved, diced
1 tbsp salted baby capers, rinsed, drained
Olive oil spray
Steamed green round beans, to serve
1/4 Kale, roughly chopped
Method
Cook chopped potatoes in a saucepan covered with water or a large microwave rice bowl dish for 20 minutes or until fork tender. Drain.
In a non-stick fry pan, add the garlic, cumin and lemon rind and cook, stirring, for 30 seconds or until aromatic.
Then add the cannellini and four bean mix and lemon juice, and cook for 2 minutes.
Add 1 tbsp of margarine and 1/4 cup of low fat milk to the potatoes, then add in the bean and lemon juice mix. Using a potato masher mix the beans and potato together.
Meanwhile add a good splash of rice or canola oil, cook the salmon fillet for 2-3 minutes on the skin side, then 1-2 minutes on the flesh side or until just cooked.
Then chop the 1/2 red onion, the parsley and mix in a small bowl with the capers.
Remove the salmon and drain on absorbent paper.
Then add the chopped green beans and chopped kale into the same frying pan. Cook on a high heat for 4-5 minutes, stirring occasionally until cooked.
Serve the bean mash, top with salmon and green vegetables. Then sprinkle the onion, caper and parsley garnish on each of the salmon pieces.
Nutrition per serve  Energy 660 kcal, 26g fat, 5g saturated, 45g protein, 60g low GI carbs, 5g sugar, 8g fibre, 420 mg salt.