Avocado on grainy toast with mint and feta
Cooking Time: 5 Minutes Serves: 2
---
Healthy fats, whole-grains, calcium, fibre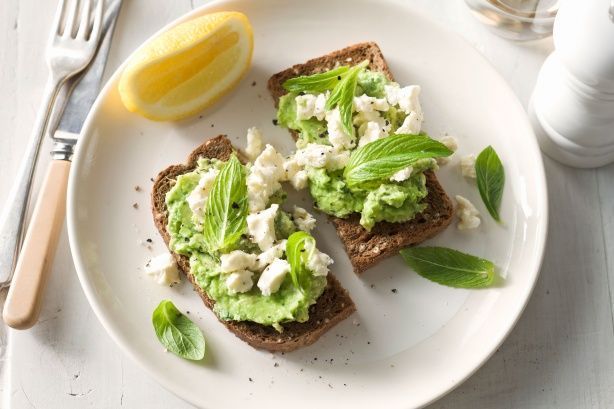 Goodness provided
The feature ingredient in this dish is avocado. While technically a fruit, you only need 1/4 of an avocado to tick off one of your fruit serves a day. A single-serve of avocado (1/4 or 50g) boasts healthy fats, fibre, folate, niacin, vitamins C, B5, E & K, potassium and antioxidants. This amazing fruit can also enhance the absorption of key nutrients from other foods, as adding avocado into a salad increases your ability to to absorb lycopene from red tomatoes and beta-carotened from carrots.
Ingredients
1/2 ripe avocado
30g Persian feta cheese
2 slices of grainy sourdough bread
Method
1.  Toast the sourdough bread 
2. Mash a 1/4 of a ripe avocado with 1 tbsp of finely chopped mint and spread across the two slices of toast
3. Drain the feta and then sprinkle across the two slices of toast.
Nutrition per serve: Energy:327 Kcal, Fat 14g, Sat Fat 6g, Protein 11g, Carb 42g, Fibre 5g Sodium 627mg