San chou bay thai basil minced pork
---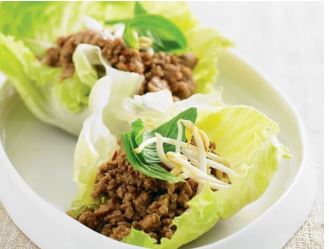 CANutrition Tip: San chou bau is a delicious and easy meal to eat. This version is loaded up with the umami flavours known to help lift dull tastes buds, tempt small appetites and it is a good option if you are trying to contain your weight. 

Ingredients
1 tbsp peanut oil
3 garlic cloves, crushed
1 tsp ginger, finely grated
500g lean pork mince
1 tbsp soy sauce
2 tbsp oyster sauce
3 shallots, thinly sliced
1 long red chilli, seeds removed, chopped finely
1/2 lime, juiced
1 tsp sesame oil
1 cup beansprouts, trimmed
12 large lettuce leaves
1/4 cup fresh coriander leaves
3/4 cup Thai basil leaves
1/4 cup chopped roasted peanuts, optional
Method
1. Heat wok over high heat until hot.
2. Add peanut oil and swirl to coat. Add garlic, ginger, chilli and pork. Stir-fry for 2 to 3 minutes or until pork just changes colour.
3. Add soy sauce and oyster. Add onions, 2 teaspoons of lime juice, kaffir lime leaves, Thai basil leaves, finely sliced cabbage and sesame oil to wok. Stir-fry for 3 minutes or until heated through. Stir in beansprouts.
4. Spoon pork mixture into lettuce leaves. Sprinkle with coriander and peanuts, if using. Serve.
Nutrition per serve: Energy 483 Kcal, protein 26g, fat 36g, sat fat 11g, carbohydrate 26g, fibre 5g