Salmon noodle bowl
Cooking Time: 10 Minutes Serves: 4
---
soft, high omega 3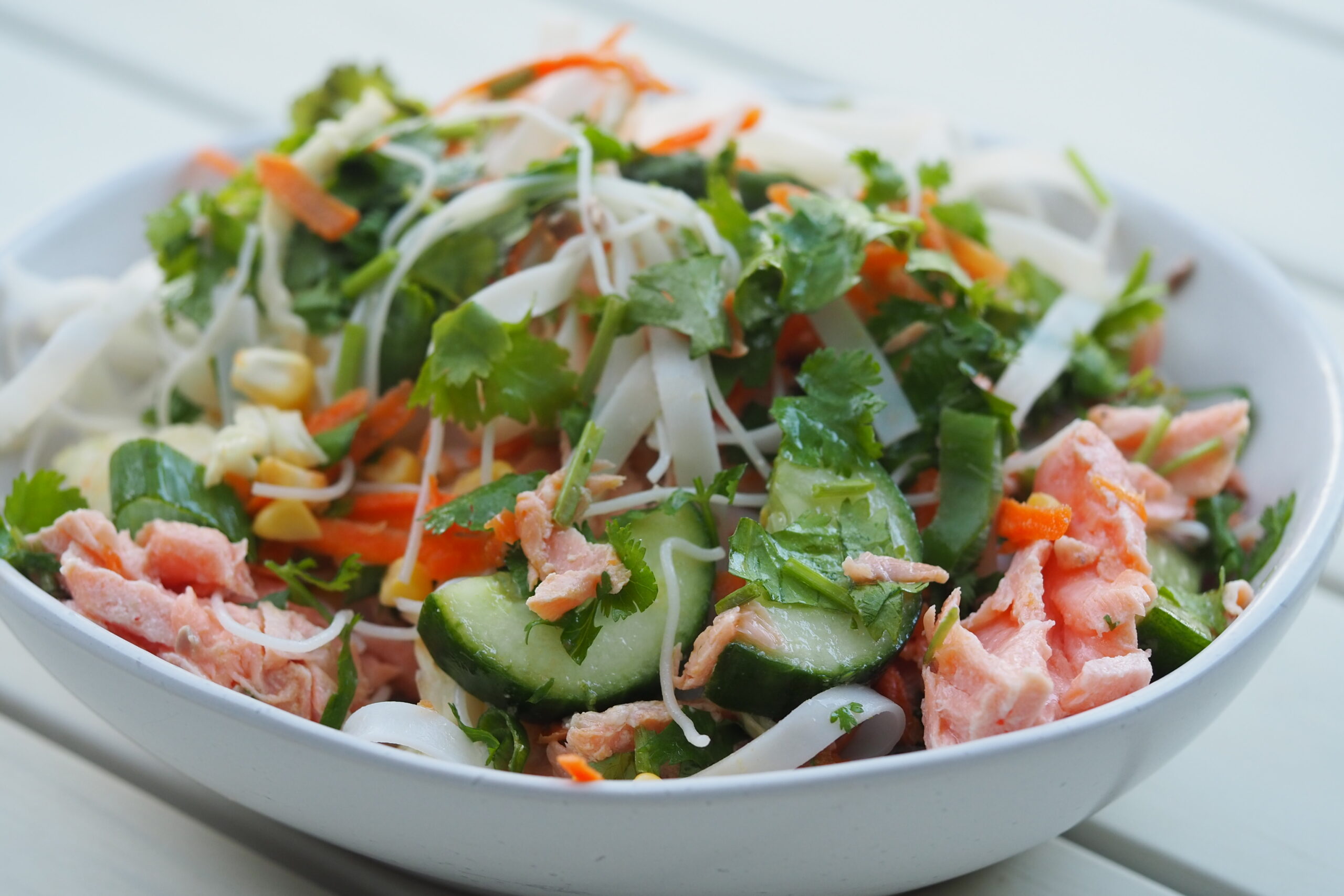 CANutrition Tip: Salmon is a cold-water fish that is rich in omega 3 fatty acids, known to help relieve inflammatory conditions. There is also evidence that including regular fish meals can help reduce risk of breast, prostate and bowel cancer risks. Try to buy wild salmon if available.

Ingredients
600g salmon fillet (no bones)
1/4 cup of soy sauce (light)
1 tbsp sesame oil
1/4  cup of Chinese rice wine (shaoshing)
1 tbsp grated ginger
250g of dried noodles
1 corn on the cob
1 red capsicum
2 cucumbers
1 carrot, grated
1/2 bunch of spring onions, sliced on an angle
bunch of coriander, chopped
1 tbsp of sesame seeds
Method
1. To make the marinade, combine the ginger, sesame oil and 1/4 cup of soy sauce in a bowl. Chop the salmon into strips and add it into the marinade. At the same time soak the noodles in a large bowl covered with hot water for 5 minutes.
2. Heat 2 tsp sunflower oil in a wok over high heat. Add the salmon and cook, turning, for 2 minutes until just cooked. Remove and set aside to rest, loosely covered with foil, for 5 minutes.
3. Add the remaining 1 tbs oil to the wok with the spring onion and stir-fry for 2 minutes. Add rice wine, corn kernels (scrap on the cob), finely sliced cucumber and grated carrot. Add the remaining 1 tbsp of soy sauce
4. Cook, stirring, for 3-4 minutes until the liquid has reduced slightly. Add the noodles to the wok with the salmon and any resting juices, then toss to warm through. Top with sesame seeds and chopped coriander to serve.