Flavourful Persian falafel bowls
Cooking Time: 20 minutes Serves: 4
---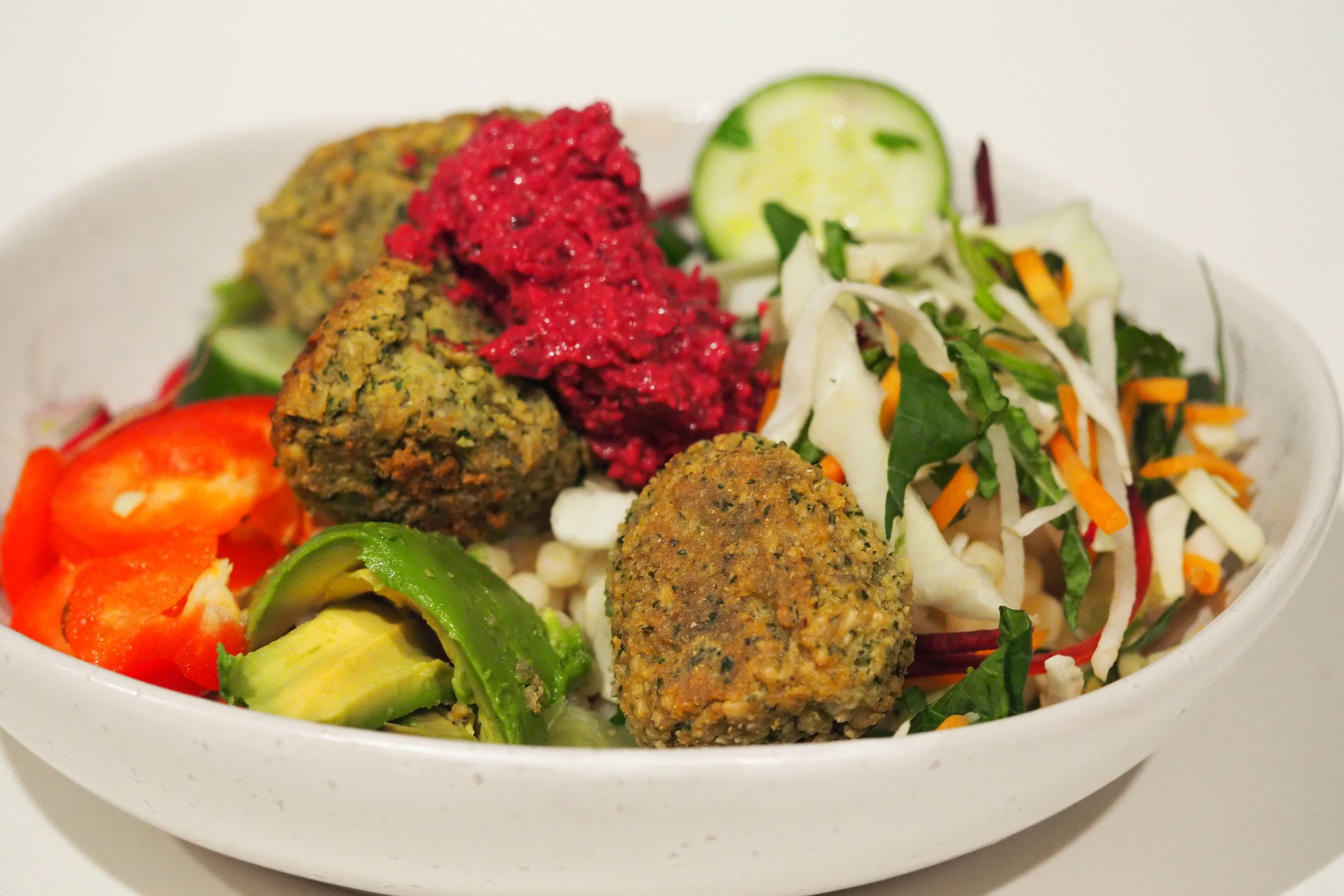 Goodness provided: This falafel bowl is action packed full of photo-nutrient colours and flavours. Falafels are a great bite sized option and when dipped in a tasty sauce which can be a good choice for dull appetites or taste buds. Falafels are surprisingly easy to make, but there is now a wide selection of healthy falafel options in supermarket and Middle-Eastern speciality stores.
Ingredients
Falafels
400g can chickpeas, drained
1 cup raw cashews
1 small egg
2 cloves garlic
1½ cups fresh chopped parsley and/or coriander
1 teaspoon ground cumin
1 teaspoon salt
¼ cup besan ( chickpea flour) or wholemeal flour
1 tablespoon olive oil
Bowls
12–16 falafels (from recipe above)
¾ cup wholemeal couscous
1 avocado, quartered
100g mixed rocket and watercress
2 carrots, cut into batons
8 radishes, quartered
1 Lebanese cucumber, sliced
1 tablespoon sesame seeds, toasted
11/2 cups of Greek yoghurt
1 tbsp Harissa paste
4 tablespoons beetroot hummus
1½ tablespoons pistachios
Place the chickpeas, cashews, egg, garlic, fresh herbs, cumin and salt in a food processor and blend until well combined.
Form into small balls, flatten slightly and toss in flour. Heat a non-stick frypan over medium heat. When hot add a drizzle of olive oil and half of the falafels. Cook for 3–4 minutes each side. Turn over to cook the other side. Remove and place on a plate covered with a paper towel, then repeat the process with remaining falafels.
Pour 1¼ cups of boiling water over couscous and set aside for 10 minutes. Fluff with a fork.
Dip the bottom of the avocado in the sesame seeds to coat.
Evenly divide and arrange all ingredients in bowls, top with 3–4 falafels each, beetroot hoummos and sprinkle with pistachios.
Per Serve: Energy 23220KJ 552 calories, Fat 29g, Protein 19g, Carb 52g, Sodium 640mg