Fighter Fishcakes
Cooking Time: 45 minutes Serves: 4-6
---
soft, omega 3, protein, anti-oxidants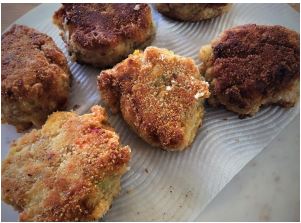 CANutrition Tip: This recipe is great for those who need a soft, easy to eat diet. As well as those whose fish is not their favourite meal. Fish is high in protein and the long chain omega 3 fatty acids needed for brain health and to help reduce inflammation.

Ingredients
4 large potatoes cut into chunks
1 Tbsp olive oil margarine
2 Tbsp low-fat milk
3 large salmon fillets (bones removed)
3 spring onions
2 corn on the cob kernels (remove with a knife) or
1 tin of canned corn kernels
1 finely sliced red capsicum
1 heaped tbsp chopped parsley
1 cup of wholemeal flour, seasoned
3 eggs beaten
2 cups of dried breadcrumb
4 tbsp canola or rice bran oil salt and pepper salad, to serve
Method
1. Chop the potatoes into chunks (leave the skins on), cover and cook for 15 mins until tender. Drain and mash with 1 tbsp an olive oil spread and 2 Tbsp low-fat milk.
2. Season the salmon and pan fry both sides for around 3 mins, or until it is just cooked (should be still pink inside). Cool for a few mins, then breaks into large flakes, removing the bones.
3. Mash the potato, add the milk and margarine, the seasoning. Lightly mix in the corn kernels, finely chopped red capsicum, chopped spring onion, finely chopped parsley and salmon, taking care not to break it up too much. Shape into fish cakes about the size of a small burger (a bit thicker than a burger).
4. Put the flour, egg and breadcrumbs in 3 shallow dishes. Dip the cakes into the flour, then dip in the egg, and finally coat in lots of breadcrumbs.
5. Heat the oil in a large pan. Fry the cakes over medium-low heat for 4-5 mins each side until deep golden and heated through. Serve with salad and lemon wedges.
6. The extra fish cakes can be frozen
Nutrition per serve: Energy 443kcal, 28g fat, 5g saturated, 25g protein, 60g low GI carbs, 5g sugar, 8g fibre, 420 mg salt.