Slow cooked pulled pork with Kaleslaw in a wholegrain wrap
Cooking Time: 6- 8 hours of slow cooking + 10 minutes to serve up Serves: 4
---
High protein, fibre, antioxidants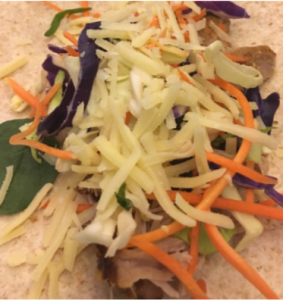 This recipe is a family favourite. Slow cooked pork infuses lots of mouth watering flavours. Serving it a wholemeal wrap and adding in lots of chopped vegetables including cabbage or a store brought Kale slaw adds crunch and the real food plant powers that can help keep cells healthy. 
Ingredients
1.6kg pork shoulder (trim fat)
2 tbsp smoked paprika
2 tbsp brown sugar
1 tsp pepper
1 tsp cayenne pepper
4 cloves of garlic, crushed
1 medium onion finely chopped
1 tsp rock salt
1/4 cup apple cider vinegar
1/2 cup water
3/4 cup a quality bbq sauce
Bag of Beet or Kale coleslaw or a homemade coleslaw (cabbage, carrot, chopped Kale, spring onion etc)
wholemeal wraps, toasted
Method
Trim fat strips off the pork
Mix together the garlic, onion, bbq sauce and dried spices and rub into all sides of the pork
Place vinegar and water in the bottom of the slow cooker and add pork carefully
Cover and cook on low for about 8 hours or in the pressure cooker for 40 minutes
Remove pork and shred (remove any large fatty pieces and discard)
Add juices from the slow cooker as desired
 Either make your own coleslaw with finely chopped cabbage with a mix of red or white cabbage, finely chopped kale, grated carrot and spring onions or buy a pre-made fresh bag option such as beet or kale coleslaw in the fruit and vegetable section in the supermarket
Place around 2-3 pieces of shredded pork on the wrap, top with 1 tbsp bbq sauce, coleslaw and a sprinkle of cheese. Roll the wrap and serve.
Extra meal options: A slow and fast cooker is a great option as you can either put the meal on before you leave or pressure cook it within 30 minutes or so. Pulled pork is an easy and flavour-packed option that is great to recycle across the week in sandwiches, toasties and vegetable-packed pasta.
Nutrition per serve : Energy 514 kcal, 13g fat, 2g saturated, 30g protein, 47g low GI carbs, 20g sugar, 7g fibre, 1g salt.