Mushu pork with savoy cabbage wraps
Cooking Time: 20 Minutes Serves: 4
---
high protein, fibre, phytonutrients, antioxidants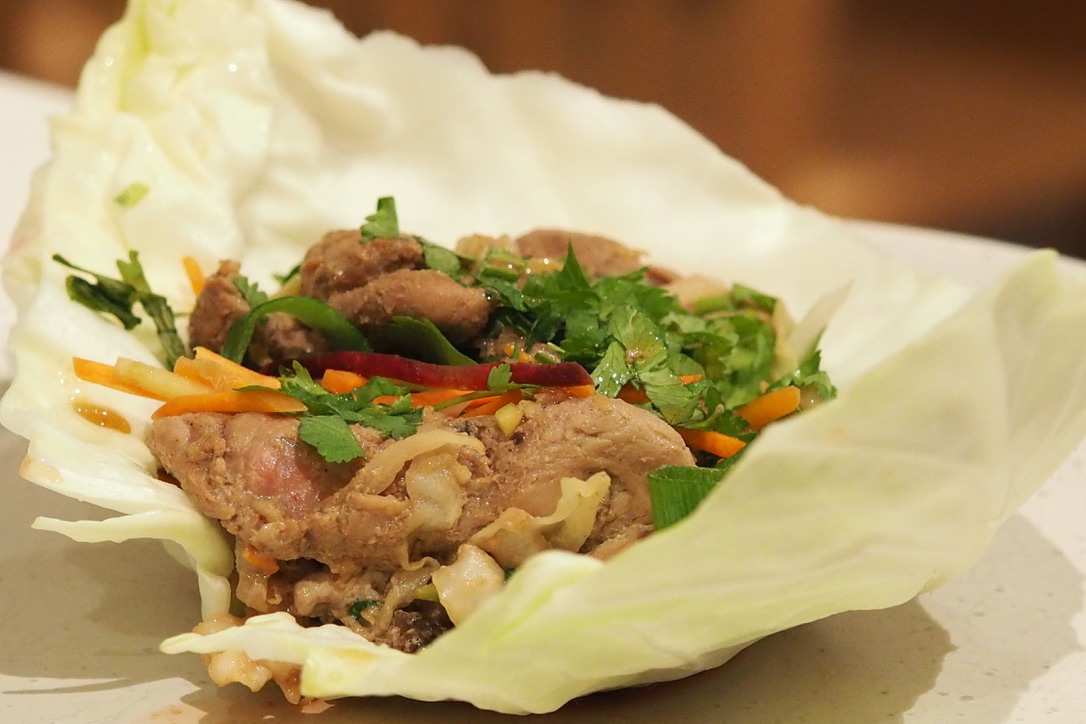 Goodness provided
The cabbage family also called 'crucifers' is a real nutritional superstar providing calorie for calorie more essential nutrients like vitamin A, C, and folic acid that pretty much any other fruit or vegetable. Savoy cabbage is the winner in the cabbage nutrition stakes. They also contain a pungent, bitter-tasting, sulphur-based compound called glucosinolates that break down into substances called isothiocyanates, which possess interesting biological eeffects. They may also have a protective effect against cancer according to a growing body of evidence. Test-tube and animal studies have shown that glucosinolates and their products can suppress cancer cell development in the colon, lungs, liver, bladder, breast and stomach. Furthermore, research looking at people who eat crucifer vegetables regularly has found a statistically lower risk of developing certain types of cancer. Savoy cabbage has the highest level of glucosinolate compounds compared to other types of cabbage and is used to hold the taste burst this recipe shares.
Ingredients
1 small head of Savoy cabbage
2 tbsp lower-sodium soy sauce
2 tbsp sesame oil
1 tbsp hoisin sauce
1 garlic clove
1 tsp corn starch
1 lean pork fillet
1/2 cup matchstick-cut carrots
100g Shitake mushrooms, thinly sliced
2 tbsp canola oil
3/4 cup sliced green onions,
3 tbsp water
Method
1. Reserve 8 cabbage leaves. Shred remaining cabbage to measure 2 cups.
2. Combine soy sauce, sesame oil, hoisin sauce and cornstarch.
3. Thinly slice pork crosswise. Beat each slice with a meat mallet until the pork is very thin.
4. Add pork, carrots, and mushrooms to soy sauce mixture; toss.
5. Heat a large non-stick frypan over medium-high heat. Add 1 tbsp oil, 1/4 cup onions and sauté for 30 seconds.
6. Add shredded cabbage and water; sauté 2 minutes. Remove cabbage mixture from pan.
7. Add remaining 1 tbsp oil,1/2 cup onions and garlic; sauté 30 seconds.
8. Add pork mixture; sauté 3 minutes or until just done. Add cabbage mixture; toss. Place about 1/3 cup pork mixture into each of 8 reserved cabbage leaves.
Nutrition per serve
Energy:338CAL (1419KJ), 29g Protein, 25g Fat, 5g Sat Fat, 10g Carb, 5g Fibre, 574mg Sodium