LSA crusted chicken with a beet salad
Cooking Time: 30 minutes Serves: 4
---
high fibre, protein, anti-oxidant, omega 3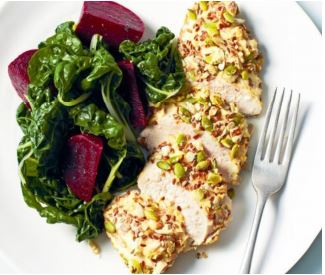 CANutrition Tip: Don't just use LSA (linseeds, sunflower seeds and almonds) on your muesli, dip plain meats and chicken pieces into a bowl of LSA seeds, then roast it in the oven for an extra serve of fibre, protein and healthy omega-3 fats.

Ingredients
2 tbsp linseeds
2 tbsp sunflower seeds
2 tbsp almonds, finely chopped
2 tbsp pumpkin seeds (pepitas)
1 tbsp sesame seeds
4 x 130g chicken breast fillets
2 tbsp wholemeal plain flour
1 egg, lightly beaten
500g silverbeet stalks removed, roughly chopped
400g canned or peeled fresh baby beetroots, cut into wedges
100g feta cheese
2 cups of quinoa
1 tbsp olive oil
1 tbsp lemon juice
Method
1. Preheat the oven to 200°C. Line a baking tray with baking paper and set aside.
2. Combine the linseeds, sunflower seeds, almonds, pumpkin seeds and sesame seeds, then transfer to a plate. Dust chicken in flour, then dip in the beaten egg to coat.
3. Press the chicken into the seed mixture until coated. Place on the tray and bake for 15 minutes or until cooked through.
4. Meanwhile, cook the quinoa in a large pot of boiling, salted water for 20 minutes. When the quinoa is just about cooked, add in the silverbeet and cook for 3 minutes or until it starting to wilt.
5. Drain, then toss with in the beetroot, oil and lemon juice, then serve with the chicken.
Nutrition per serve: Energy 577 kcal, protein 42g, fat 23g, sat fat 4g, carbohydrate 54g, fibre 12g