Health kicked chicken rice
Cooking Time: 1 hour
---
High protein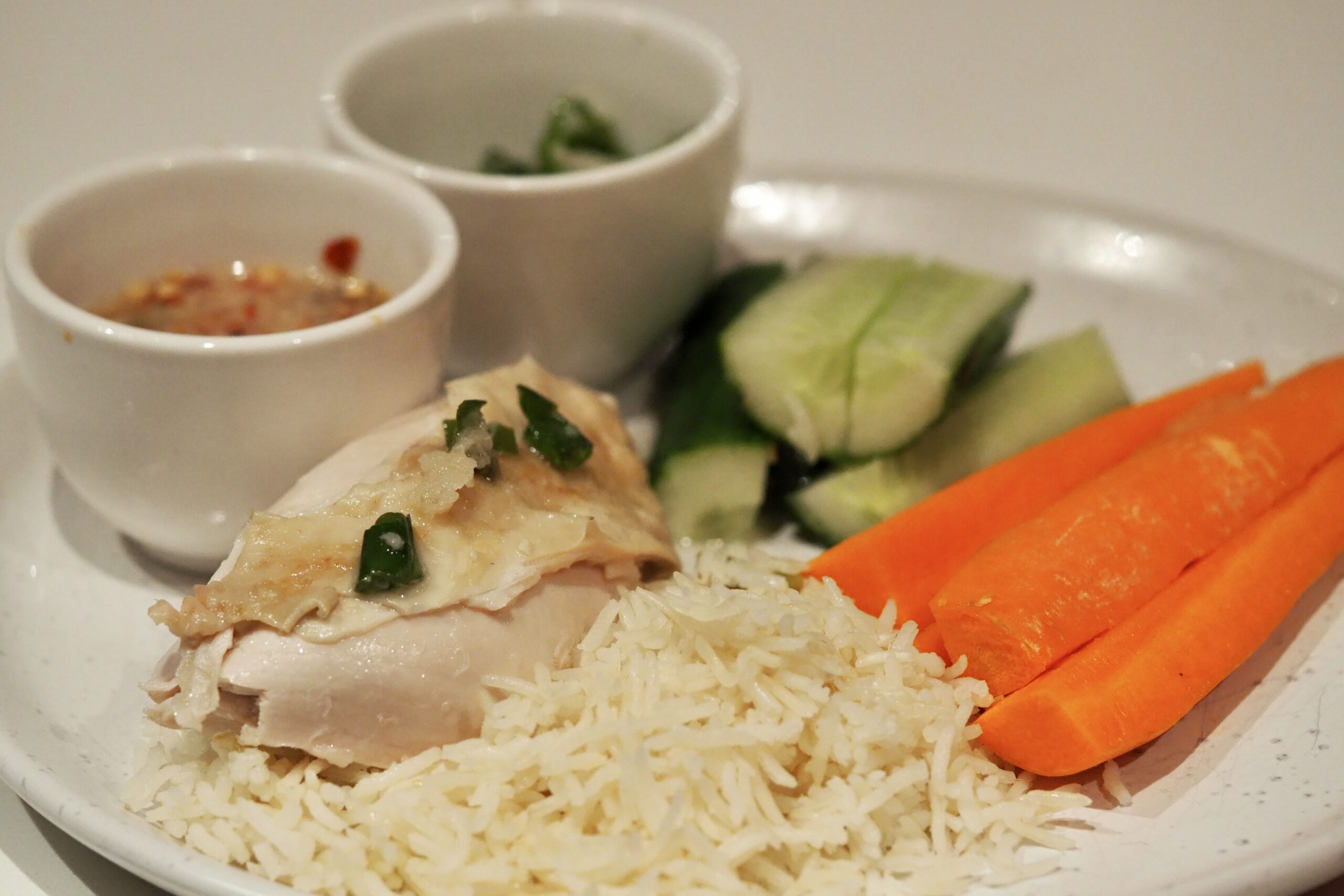 CANutrition Tip:  Chicken rice is Singapore's national dish. It is a lovely light meal and this is the recipe I developed for a popular health food cafe. Left overs are great for lunch and it can be a good meal to nibble on if your not feeling great.

Ingredients
1.6 kg of organic chicken
750 ml (3 cups) Shaoxing rice wine
8 green onions, trimmed
16 tsp garlic (use a jar or substitute 12 crushed garlic cloves)
4L cold water
2 cups of brown rice
Ginger dipping sauce
3 spring onions, finely chopped
1 tablespoon finely grated ginger
60ml (1/4cup) rice bran oil
Chilli dipping sauce
5 long red chillies, roughly chopped
1 clove garlic, roughly chopped
2 Tsp grated ginger
2 Tsp caster sugar
1 lime, juiced
Method
1. Add the Shaoxing rice wine, 4 litres of cold water, garlic and green onions into a large stockpot and bring to the boil.
2. Reduce heat and simmer for 15 minutes. Then rinse chicken under cold water and trim excess fat. Gently place breast-side down into stock and submerge for 15 mins, ensuring stock doesn't return to the boil.
3. Remove pot from heat and stand for 3 hours. Using tongs, carefully remove chicken from stock and drain on a tray.
4. To make the ginger dipping sauce, combine spring onions and ginger in a heatproof bowl. Place oil in a small saucepan over medium heat and cook for 3 minutes or until hot. Carefully pour hot oil over the spring onion mixture and stir to combine well. Set aside to cool. Makes 160ml (2/3 cup).
5. To make the chilli dipping sauce, process all ingredients in a food processor to a smooth paste. Alternatively, use a mortar and pestle. Set aside. Makes 80ml.
6. Remove chicken and reserve broth. Pat dry with a paper towel. Strain broth, discarding any solids. Set aside.
7. To make the rice, add 750ml (3 cups) reserved broth, stir to combine, then bring to a simmer. Cover with a tight-fitting lid, reduce heat to low and cook for 15 minutes or until liquid is absorbed. Remove pan from heat and stand, covered, for 10 minutes or until rice is tender. Heat the remaining broth to a simmer over low heat.
8. Meanwhile, remove ginger and onions from the chicken cavity and discard. Using a cleaver, cut chicken into 12 pieces and place on a platter.
9. Peel the cucumber and finely chop the cabbage, then halve it lengthwise, thinly slice and place on a platter. Divide hot broth among 4 bowls. Scatter coriander sprigs over chicken, then serve with broth, fragrant rice and both dipping sauces.
Nutrition Per Serve: Energy 512 kcal, 19g fat, 3g saturated, 34g protein, 54g carbohydrates