Easy high protein blueberry pancakes
Cooking Time: 20 Minutes Serves: 2
---
high protein, fibre, phytonutrients, high calcium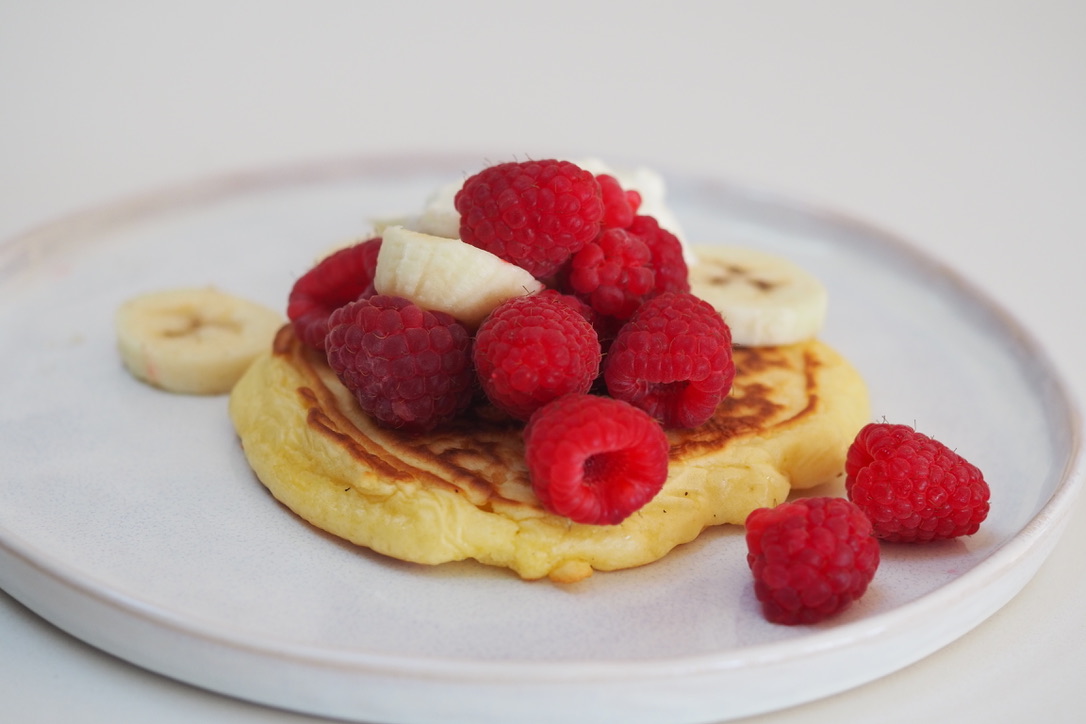 Goodness provided
These pancakes are a delicious and higher protein take on regular pancakes. Using a wholemeal flour boosts the fibre and adding in a good handful or two of blueberries, you will include more of a key phytonutrient called anthocyanin. Blueberries have five times more anthocyanin than raspberries or strawberries. Anthocyanin help protect the cells from cancer. I suggest making up the mixture the night before and so they are ready to cook and serve up in the morning.
Ingredients
3 large free-range eggs
2 tbsp skim milk powder (extra protein boost)
salt
2 cups w'meal self-raising flour (can substitute GF flour)
2 cups low-fat milk or buttermilk or high calcium alternate
1/2 cup of blueberries (fresh or frozen)
2-3 tbsp olive oil margarine (cooking in the pan)
4-6 tbsp vanilla or natural Greek yoghurt
Drizzle of honey (optional)
Serve with extra berries and banana slices
Method
1) Crack the eggs into a large mixing bowl.
2) Add flour, skim milk powder, milk and a good pinch of salt & whisk until you have a smooth batter (use a hand or electric mixer).
3) Fold in blueberries (fresh or frozen).
4) Put a large frying pan on medium heat, put a dab of olive oil on the paper towel and wipe across the pan.
5) Add a good ladle of the mixture, cook for 1 to 2 minutes, or until bubbles appear on the surface. Use a fish slice to flip carefully.
6) When lightly golden on both sides, transfer to a plate. Serve with a dollop of a quality natural yoghurt or ricotta cheese, extra berries or sliced banana.
7) Dull palettes or those needing an extra boost should add a generous drizzle of honey and a good dollop of yoghurt.
Energy: 435 Kcal (1827KJ), Fat: 25g, Saturated Fat: 3g, Protein: 19g, Carb: 57, Fibre: 9g, Sodium: 630mg