Mum's chicken soup
Cooking Time: 15 minutes prep + 1hr 20mins cooking Serves: 4
---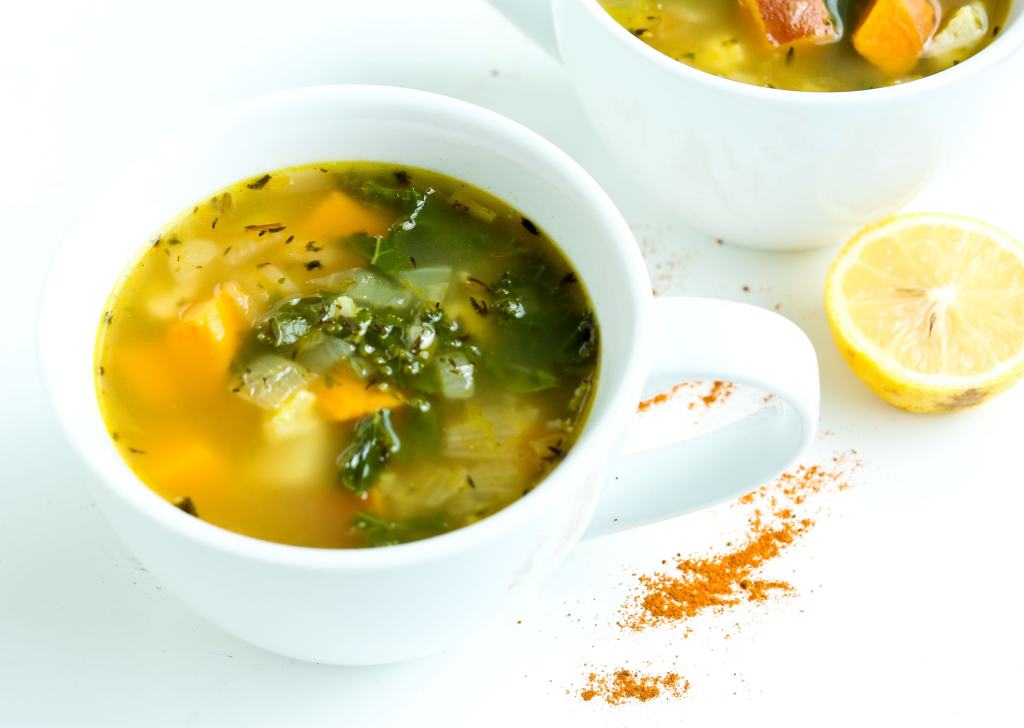 This is the ultimate feel better soup. It is filled with the ingredients that will sooth, comfort and lift.
Ingredients
1 tbsp olive oil
2 garlic cloves, crushed
1 tbsp finely chopped fresh ginger
1 tbsp chopped fresh rosemary
1.2kg free range whole chicken, trimmed
1 celery stick, coarsely chopped
2 small fresh red chillies, seeded, finely chopped
1.5L-2L (6-8 cups) chicken stock
150g (1 cup) frozen peas
2 tsp salt-reduced soy sauce
Method
1. Heat the oil in a large saucepan over medium-low heat. Cook onion, garlic, ginger and rosemary for 5 minutes or until soft.
2. Add chicken, celery and chilli. Cover with water. Increase heat to high. Bring to the boil. Reduce heat to low. Cover. Simmer for 1 hour, skimming the surface occasionally. Cool. Chill for 2 hours or overnight.
3. Remove and discard fat from surface of stock. Transfer chicken to a chopping board. Discard skin and bones. Shred chicken.
4. Bring the stock to the boil over high heat. Reduce heat to medium. Stir in sweet potato. Cook for 10 minutes or until tender. Stir in peas and chicken for 2-3 minutes or until heated through. Stir in soy sauce. Season with pepper