Beetroot and goats cheese tart
Cooking Time: 30 minutes Serves: 6
---
vegetarian, high fibre, protein, nitrate and anti-oxidant rich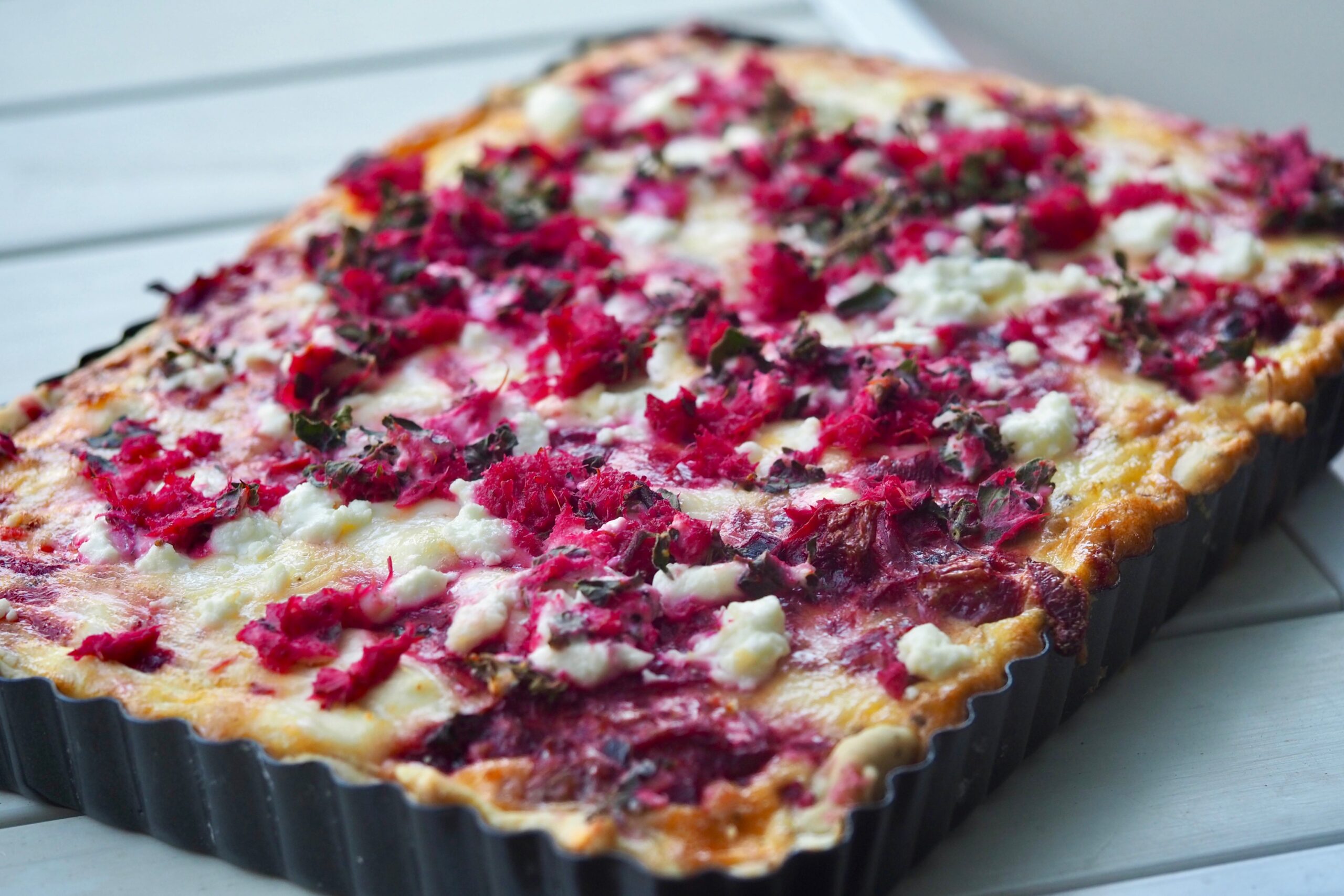 Goodness provided: Beetroot is a bit of a magic crimson elixir that helps to improve muscle efficiency (improves stamina), blood flow and oxygen transport to our muscles. Beetroot is also one of the best ways to increase haemoglobin levels. It is not only high in iron content, but also folic acid along with potassium and fibre. Drink beetroot juice every day to ensure a healthy blood count. Legumes like lentils, peanuts, peas and beans can also help increase haemoglobin levels significantly.
Ingredients
Pastry (you can buy a pre-made pastry case)
200g (11/3 cups) of wholemeal plain flour (regular flour is okay)
100g butter or margarine
60mls of iced cold water
Filling
400g of beetroots (can also used pre-cooked beets)
2 small red onions
1 tbsp of olive oil
1/4 cup of balsamic vinegar
1/2 tbsp of fresh thyme
2 eggs, lightly beaten
1/2 tsp grated nutmeg
150mls of cream
1/2 tbsp of grated horseradish (bottled)
150g of goats cheese
salt to season
Method
Put on rubber gloves and peel the beetroot. Then put in a large saucepan of cold water and bring to the boil. Reduce heat to medium-low and simmer for 1 hour, topping with water if necessary, until tender. Drain. Refresh under cold water and leave to cool. Coarsely grate and set aside.
Meanwhile, for the pastry, place flour, butter, thyme and a pinch salt in a food processor and whiz until the mixture resembles breadcrumbs. Gradually add 1/4 cup (60ml) chilled water, then process until the mixture comes together in a ball. Enclose in plastic wrap and chill for 15 minutes. Lightly grease a 30cm loose-bottomed tart pan. On a lightly floured surface, roll out pastry to 5mm thick, then use to line the tart pan. Chill for a further 15 minutes.
Preheat oven to 180°C. Line pastry with baking paper and fill with pastry weights or uncooked rice. Bake for 10 minutes. Remove the paper and weights, then bake for 5-10 minutes or until dry and pale golden.

Heat the the oil in a frypan over medium heat. Add onions and 1/2 teaspoon salt, then cook, stirring occasionally, for 6-8 minutes until softened. Add beetroot, vinegar and thyme, then cook, stirring, for 5 minutes or until thickened and syrupy. Then mix in the grated horseradish and then spread the beetroot mixture over the tart base, then crumble over the goats cheese.

Whisk the eggs, cream and grated nutmeg together, then pour into tart case. Scatter with extra thyme. Bake for 35 minutes or until set.

Serve together with a green salad, dressed with a lemon, dijon mustard dressing.
Nutrition per serve: Energy 475 kcal, 33g fat, 19g saturated, 13g protein, 35g low GI carbs, 6g fibre, 533mg salt.