Beet and bean burger
Cooking Time: 45 minutes Serves: 4
---
vegetarian, high fibre, soft, protein, anti-oxidant rich, (optional gluten free - serve with gluten free bread roll)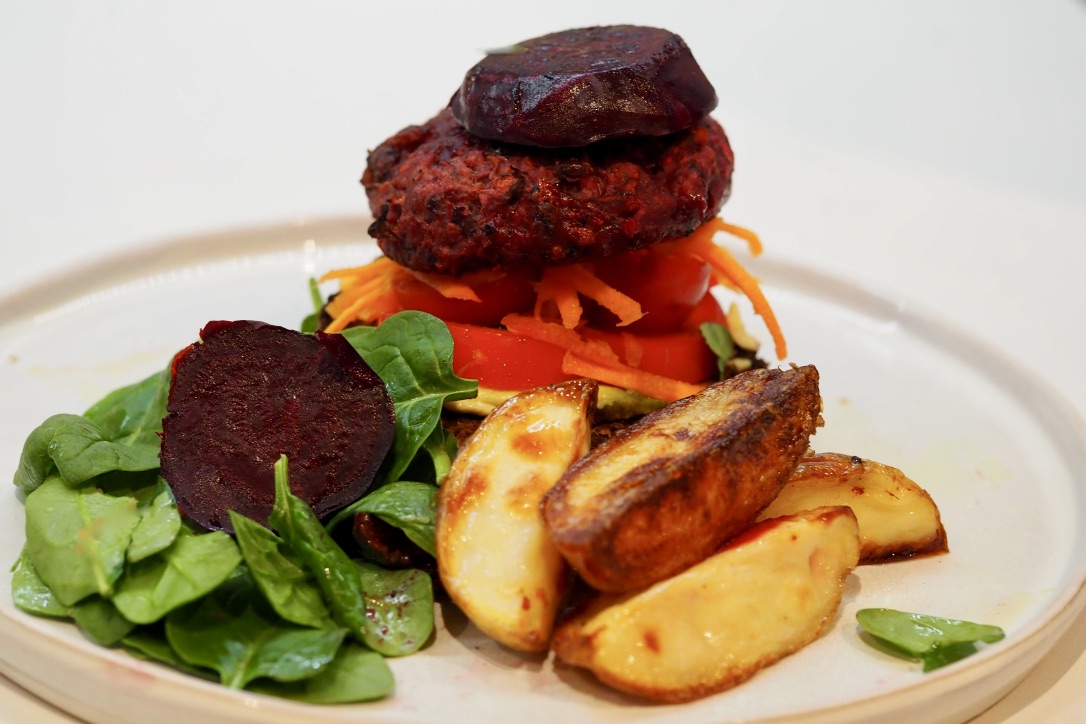 Ingredients
200 g canned lentils, rinsed, drained
4 garlic clove
280g lean beef mince
80g grated zucchini
120g of canned beetroot (or grated fresh)
1/2 TSP salt and pepper
1 large egg
200 g cherry tomatoes, halved
60 g coriander
40 ml Olive oil
120 g hummus
4 wholegrain rolls
1 large Lebanese cucumber, chopped
1/4 bag of baby spinach leaves
Method
1. Place the drained lentils, mince, drained and grated zucchini, minced canned beetroot, garlic
cloves, salt and pepper and egg in a large bowl.
2. Season with salt and pepper. Use clean hands to mix until well combined.
3. Shape into 100g patties. Place on a baking tray.
4. Cover and place in the fridge for 10 minutes to chill.
5. Meanwhile, combine the tomato and coriander in a bowl.
6. Spray a barbecue grill or chargrill with oil and heat on medium-high.
7. Cook the patties for 4 minutes each side or until lightly charred and cooked through.
8. Spread the hummus over the base of each roll.
9. Top with the cucumber, spinach, patties, tomato mixture and remaining roll.