What should I do if the person I am caring for does not want to eat and is losing weight?
---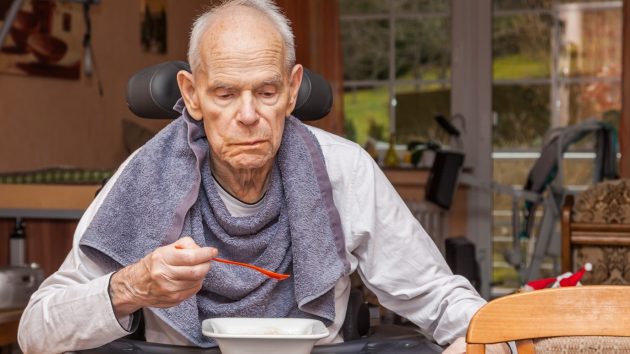 It can be very hard to manufacture an appetite when you simply do not feel like eating. While it is distressing to see a loved one refuse or struggle with food, it is important to remember that there is a  fine line between tempting someone's appetite and pushing or nagging them to eat. As the last thing you want is for the dinner table to become a place of stress or anxiety. Below are some suggestions to help support a person who is struggling with their intakes, but if you are feeling lost or it is clear that your loved one is struggling then it is important to speak to your medical team to see if you can obtain a referral to see a Dietitian. It is usually better to intervene earlier, rather than later as this can help reduce the amount of weight or muscle loss during treatments. Suggestions to try:
Serve smaller portions and serve on a tray nicely presented with a napkin
Think in terms of a child's tea party, with a range of tempting nibbles such as tiny egg and cress sandwiches without crusts, small biscuits (such as a chocolate digestive or melting moments), smoked salmon and cream cheese on a water cracker biscuits, mini home-made scones with butter and jam, a small piece of a chicken breast with a tiny portion of home-made chips, mini quiches (available from the fridge section of many supermarkets if you don't want to cook them yourselves).
Offer snacks regularly such as flavoured milkshakes (add a dollop of ice cream) or fruit smoothies
Try a small glass of something alcoholic before the meal such as a small glass of Guinness or sherry as this can help with appetite and relaxation
Try easy to eat desserts like a small serve of a rice pudding or custard or ice cream with some canned peaches or apricots or pears
Get together a range of TV snacks to nibble while viewing such as fingers of Vegemite toast, salted and buttered popcorn, chips, chocolate covered peanuts or sultanas or corn chips with a lovely dip such as guacamole or hummus; thin slices of hard speciality cheese such as a crumbly cheddar
A small tasting plate with cold meats, olives, dips, nuts, crackers and cheese etc
Sip on a fizzy drink like ginger ale or coke
Remember when your appetite is poor, it is important to nibble on whatever you fancy. This is not a time to be too worried about eating a bit more sugar or fat in the diet.