Toasted sesame, soy and ginger salmon on a stack of broccoli brown rice and quinoa
---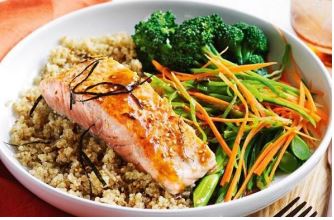 Ingredients
4 salmon fillets
1 TBSP olive oil
1 TBSP sesame oil
2 TBSP rice vinegar
2 TBSP grated palm or brown sugar (optional)
2 TBSP soy sauce
2 garlic cloves, crushed
1 TBSP freshly grated ginger
1-2 TBSP toasted sesame seeds
4 green onions, chopped
Glaze (mix ingredients)
1 TSP sesame oil
1 TSP soy sauce
1/2 TSP freshly grated ginger
1/2 TSP toasted sesame seeds
1 TBSP honey (optional)
Method
1. In a zip lock bag combine olive oil, sesame oil, soy sauce, garlic, ginger, vinegar, brown sugar (optional) and whisk well until combined. Add salmon fillets, then refrigerate and marinate overnight or at least 30 minutes.
2. Add a splash of a good oil into a large non-stick frypan and cook salmon on medium heat for 8-10 minutes or until cooked to your preference. (Flip the salmon halfway if desired)
3. Remove and serve on a mix of brown rice and quinoa* immediately with a sprinkle of toasted sesame seeds, green onions and the glaze below. Alongside a big serve of broccoli.
4. Portion controlled packs of microwaveable brown rice and quinoa are available in the supermarket.