Tangine chicken and chickpeas
---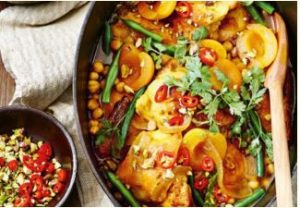 CANutrition Tip: This delicious meal includes a good hit of the super spice turmeric. Turmeric is a natural anti-inflammatory, that inhibits the growth of new blood vessels in tumours and it's a powerful antioxidant. There are over 30 studies showing that turmeric may also have a role in stopping the growth of new cancer cells, although bigger human trials are still needed.

Ingredients
1 tbsp extra virgin olive oil
8 small skinless chicken thigh cutlets
1/4 cup plain flour
1 large brown onion, halved, thickly sliced
3 garlic cloves, crushed
11/2 tsp ground cumin
11/2 tsp ground coriander
2 tsp ground turmeric
1 cinnamon stick
1 cup Massel chicken style liquid stock
400g dried apricots
400g can chickpeas, drained, rinsed
150g green beans, trimmed, halved
1/2 cup fresh coriander leaves
1 long red chilli, thinly sliced
1/4 cup pistachio kernels, toasted, roughly chopped
Couscous, to serve (~1 cup cooked per serve)
Method
1. Heat 1/2 the oil in a large frying pan over medium-high heat. Toss chicken in flour to coat, shaking off excess. Cook chicken, turning, for 5 minutes or until browned all over. Transfer to slow cooker.
2. Add onion, garlic, cumin, ground coriander and turmeric, cinnamon stick and stock. Season with pepper.
3. Add apricots and drained chickpeas, cover with the lid.
4. Cook on LOW for 6 hours (or HIGH for 3 hours). Add beans and cook for 10 minutes.
5. Sprinkle tagine with coriander leaves, chilli and chopped pistachio.
6. Serve with 1 cup of couscous per serve.
Nutrition per serve: Energy 512 kcal, 34g protein, 19g fat, 3g saturated, 54g low GI carbs, 12g fibre