Sultana and nut protein balls
Cooking Time: 5 Minutes Serves: 8 balls
---
gluten-free (check the oat brand or use quinoa or millet), protein, vegetarian, anti-oxidants (with nuts)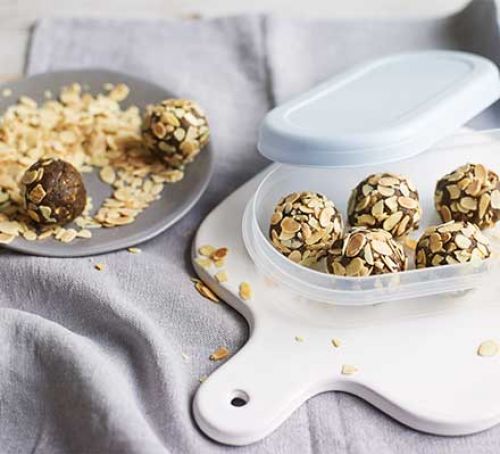 Goodness provided
These easy to make protein balls provide a good serve of high biological value proteins, meaning they will get to work in your muscles soon after they have been eaten.
Ingredients
1/2 cup of raisins
2 large egg whites
1 tsp vanilla extract
1/4 cup of oats
2 tbsp of skim milk or protein powder
1/4 cup of almond meal
3 tbsp of crunchy peanut butter
1 tbsp of flaked almonds
Method
Put the raisins in a jug with the egg whites and vanilla and blitz with a hand blender or in a small food processor until the raisins are finely chopped. Stir in the oats, skim milk or protein powder, ground almonds and peanut butter.
Mix well to make a soft dough.
Divide into seven and roll in the toasted almonds to make balls. Store in the fridge, in a container, for up to a week.
Nutrition (Per ball)
Energy 142kcal, Fat 6g Sat Fat 1g, Protein 20g, Carb 13g, Fibre 3g, Sodium 241mg