Quinoa crusted veal schnitzel with pea & feta smash
---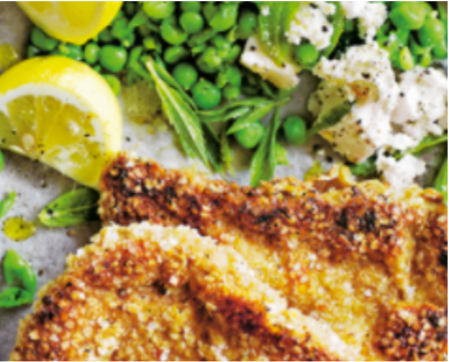 DINNER MEAL RECIPE - SERVES 4
Canutrition tip: Take care not to overcook the peas, to ensure they give a fresh flavour burst rich in vitamin C, fibre and B vitamins, especially thiamine. Mint leaves also help freshen fury mouths and the quinoa tops crust dipped in the egg helps top up the protein in the veal to a hard-hitting 45g per serve.
Ingredients
2 eggs
2 garlic cloves
1 tsp salt flakes
½ cups (65G) wholemeal spelt or plain flour
2 cups (200G) quinoa flakes
8 x 90G veal schnitzel
2 Tbsp extra virgin olive oil
Lemon wedges
Pea & Feta Mash
4 cups of frozen peas (thawed) or fresh if available
¼ cup of mint leaves, roughly chopped
sea salt and black pepper
1 Tbsp lemon rind grated
100g quality feta cheese, crumbled.
Mash Sweet Potato
1 large sweet potato peeled and chopped into cubes. (Can mix in some regular potato if preferred)
3/4 cup of low-fat milk
2 Tbsp margarine or butter
Method
To make the pea smash, place the peas in a large bowl and roughly mash with a potato masher. Add the mint, salt, pepper, lemon and feta. Toss to combine and set aside.
Put potato chunks into a large saucepan or MW bowl. Cook for 15-20 minutes until a fork pierces the potato easily. Add milk and margarine. Mash well using a fork or potato masher. Cover to keep warm.
 Place the eggs, garlic and salt in a bowl and whisk with a fork to combine.
Place the flour in a separate bowl and place the quinoa flakes on a plate. Dust the veal, one piece at a time, in the flour, dip in the egg and press into the quinoa flakes to coat.
1/2 the crumbed veal can be frozen for another time.
Heat half the oil in a large non-stick frying pan over medium heat. Cook half the veal for 3–4 minutes, turning halfway. Repeat with the remaining oil and veal.
Serve with the pea smash, extra mint and lemon wedges. Serves 4.
Nutrition Information:
90g crumbed veal, 1 cup of peas, 25g feta cheese
Per serving - Energy 722 kcal, 22g fat, 6g saturated, 45g protein, 87g low GI carbs, 8g sugar, 13g fibre, .7mg salt