Chow mein-style pork noodles with cabbage and snow peas
Serves: 4
---
protein, anti-oxidant, taste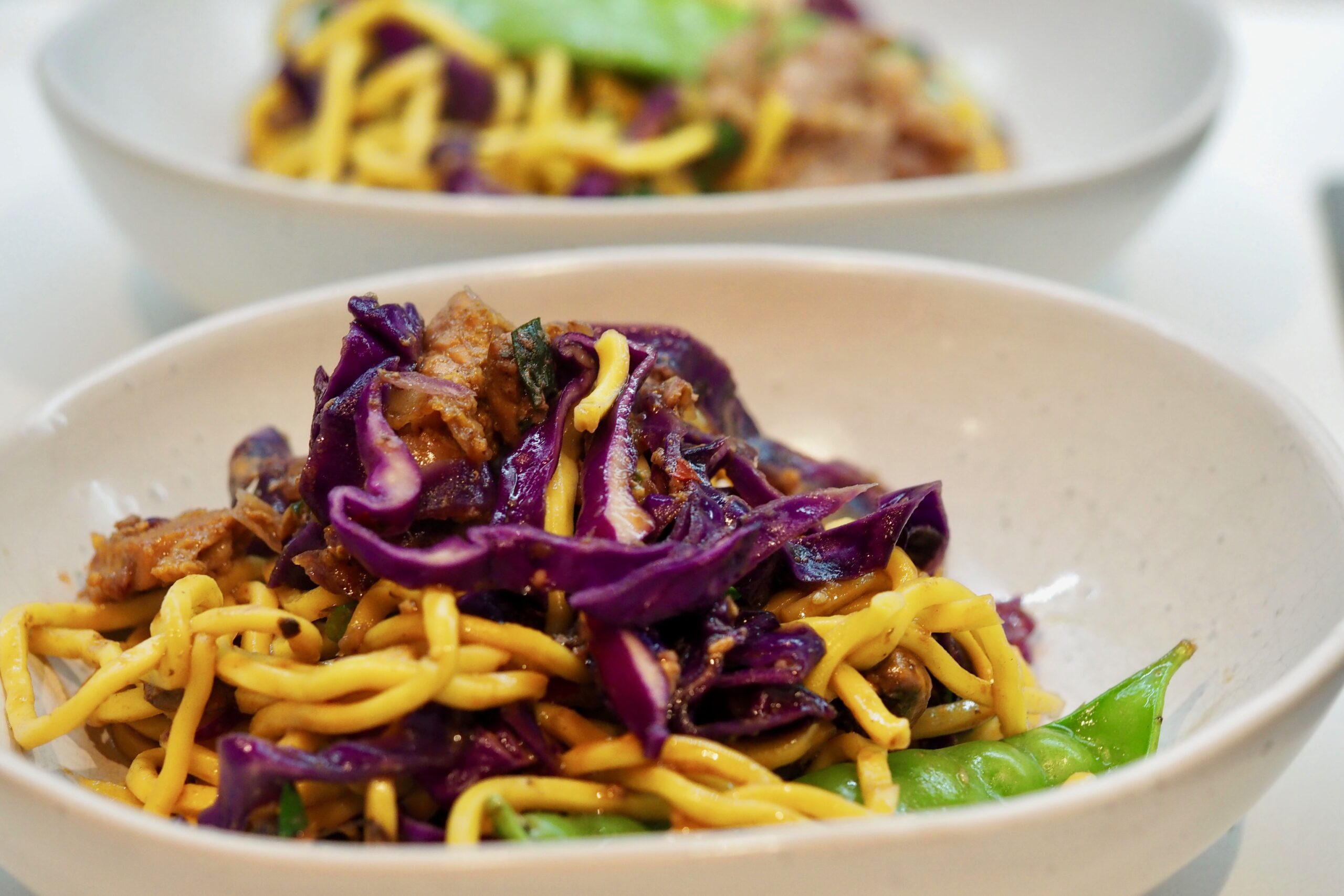 CANutrition Tip: Lean pork is nutrient-rich meat. Pork cuts are now up to 16% leaner than they were 20 years ago. Pork is very high in protein, It also packs in lots of potassium, riboflavin and zinc, and is an excellent source of vitamin B6, thiamin, phosphorus and niacin. Pork is naturally low in sodium, too. This recipe combines lean pork with lots of colourful and crunchy vegetables.

Ingredients
600g pork fillet, finely sliced
1/2 cup of oyster sauce
2 pinches Chinese five spice powder
1 large brown onion finely chopped
4 cloves garlic, crushed
150g fresh ginger (about a 15cm piece) peeled and grated (or 1 tbsp jar ginger)
1/2 red cabbage, core removed, finely sliced
100ml hot water
50ml tamari soy sauce
3 tsp sesame oil
2 tbsp sweet chilli sauce
4 spring onions sliced on an angle
2 red bullet chillies, seeds in, chopped
440g packet Hokkien-style noodles, rinsed under hot water
Coriander and finely sliced chilli, to garnish
Method
1. In a large wok-style pan, fry the finely chopped onion, garlic and ginger and cook for 2 minutes.
2. Finely slice the pork and using a meat mallet flatten the meat. Add along with the oyster sauce, tamari, sesame oil and sweet chilli sauce in the wok.
3. Cook for 2-3 minutes or until the pork is just cooked (pink on the inside). Then add the finely sliced cabbage, the snow peas, spring onion, chillies, then add the soaked noodles and stir to combine. Add in the water and simmer for 3 minutes. Check the spice and seasoning. Serve immediately with coriander and chilli to garnish.
Nutrition per serve: Energy 599 kcal, protein 27g , fat 24g, saturated fat 6g, carbohydrate 66g,  fibre 5g