Peri Peri chicken with sweet potato chips and coleslaw (Serves 4)
---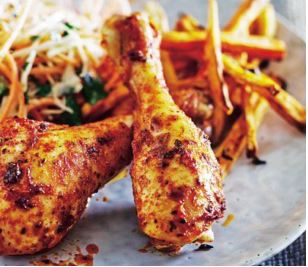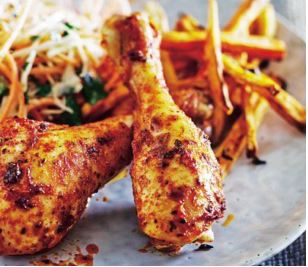 CANutrition Tip: Herbs and spices have more disease-fighting properties than fruits and vegetables. They are very high in a group of protective nutrients called polyphenols. Polyphenols are the most abundant group of antioxidants and their cancer-fighting properties go beyond basic anti-oxidant cell functions. This recipe hits you with the benefits of oregano, cayenne pepper, paprika and turmeric,

Ingredients
4 large Chicken Merrylands (leg &thighs)
    Peri-Peri Marinade
1 TBSP olive oil
Juice of a lemon
2 garlic cloves, crushed
1/2 small red chilli, finely chopped
1 TBSP brown sugar
1 TSP dried oregano
1 TSP sweet paprika
1 TSP turmeric
Pinch cayenne pepper
Pinch salt
2 large sweet potatoes
2 large potatoes
1/4 cup of olive oil
2 corn on the cob
Green vegetables (broccoli, beans or broccolini etc)
Method
1. To make the peri-peri marinade, place all the ingredients into Bag 4a. Add chicken into the marinade bag and rub over the chicken. Cover and place in the fridge for 1 hour or overnight to marinate.
2. Cut the washed potatoes into chip chunks (no need to peel) and put into a large MW bowl, cover with water and cook for 15 minutes or until just able to pierce with a fork. Meanwhile, peel the sweet potato and cook.
3. Heat a lightly oiled char or health grill or a frying pan over medium heat. Cook chicken, turning occasionally for 12 minutes or until the skin is browned and cooked through. Serve together with the Spanish rice and a crunchy green salad. Drizzle balsamic vinegar over the salad.
Nutrition Information:
Per serve: 1 Peri Peri chicken leg, 1 cup of Spanish rice and vegetables.
Energy 698 Calories, Fat 38g, Sat 10g, Protein 44g, Carb 46g, Fibre 6g, Sodium 415mg