Organic beef sausages with sweet potato mash & Kale chips
Cooking Time: 30 minutes Serves: 4
---
high fibre, soft, protein, anti-oxidant rich, (check the sausages are gluten free)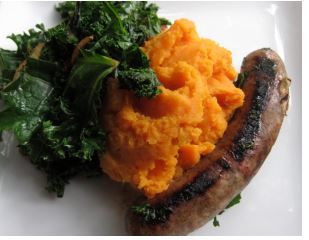 CANutrition Tip: While ultra-processed and cured meat should be of a cancer preventative menu, sourcing an organic or gourmet quality sausages can still allow you the occasional indulgence of good old bangers and mash. Serve with sweet potato, broccoli and kale chips you can enjoy this hearty and wholesome version.

Ingredients
1 medium sweet potato, peeled, coarsely chopped
30g olive oil margarine
1/3 cup low-fat milk
2 tablespoons olive oil
8 organic or gourmet beef sausages (try the Cleavers brand)
2 teaspoons thyme leaves
Steamed beans or broccoli to serve.
1/3 kale, coarsely chopped
Chopped flat-leaf parsley, to serve
Method
1. Cook the sweet potato in a saucepan or MW bowl of salted boiling water for 10 mins or until tender. Drain well. Add margarine and milk and mash until smooth.
2. Meanwhile, heat 1 tablespoon of olive oil in large frying pan over medium heat. Cook the sausages, turning, for 6 mins or until browned and cooked through. Transfer to a plate. Cover to keep warm.
3. Heat the oven to 180C. Add the coarsely chopped Kale onto a baking tray and cook for 10 minutes or until crispy.
3. Divide the mash and beans or broccoli among serving plates. Top with the sausages, beans and crispy Kale chips.