Miso salmon noodles with Chinese greens
---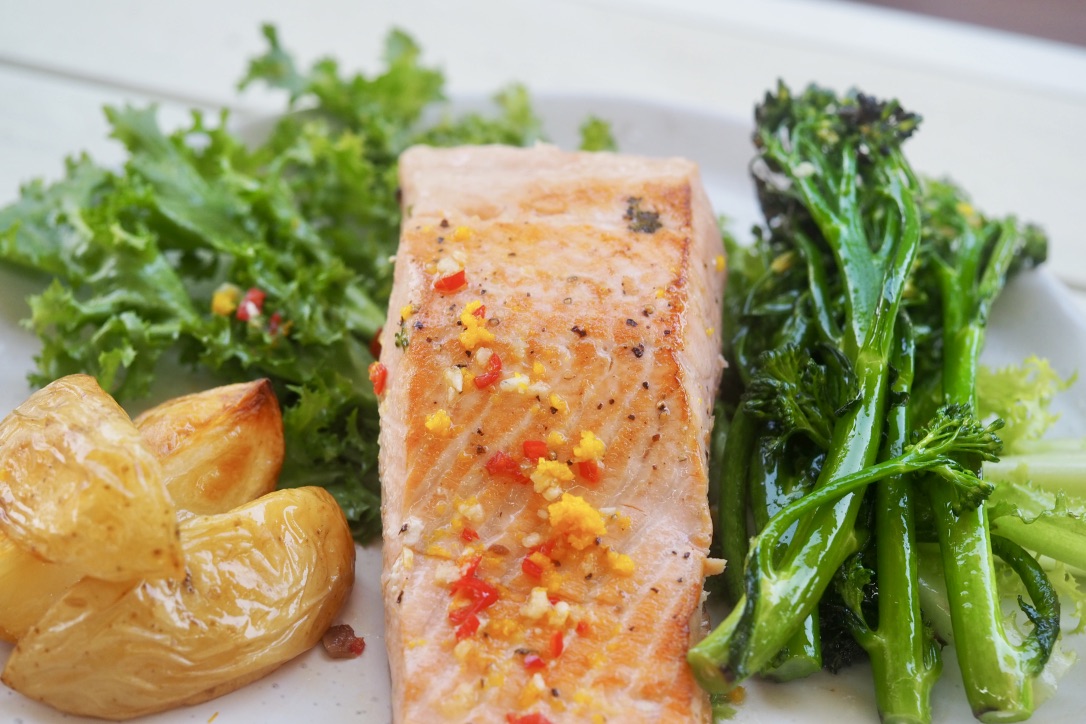 Goodness provided:  Salmon is a cold-water fish that is rich in omega 3 fatty acids, known to help relieve inflammatory conditions. There is also evidence that including regular fish meals can help reduce risk of breast, prostate and bowel cancer risks. Try to buy wild salmon if available.
Ingredients
4 x salmon fillets (~150g)
5 tbsp miso marination - 2 tbsp white miso,
1 tbsp rice wine vinegar, 2 tbsp teriyaki marinade
3 bunches of bok choy
1 large cucumber
2-3 spring onions chopped (green and white part)
1 red chilli finely chopped
Chopped coriander (garnish)
Optional - serve with noodles or homemade potato chips
Method
Slice salmon fillet and place in the well-mixed miso marinade for at least 2-3 hours
Add a good splash of rice or canola oil, 1 tbsp sesame oil. Cook salmon fillet for 5-7 minutes
until just cooked. Remove the salmon and drain of absorbent paper.
Add the chopped green vegetables into the wok. Add 2 TBSP of teriyaki soy
sauce. Stir fry for 3 minutes or until the vegetables are just cooked.
Serve the salmon and green vegetables bowls with an extra drizzle of miso marinade and chopped chilli and coriander as a garnish. Serve with rice or noodles or homemade potato chips.
Nutrition per serve with 4 homemade chips: Energy 660 kcal, 26g fat, 5g saturated, 45g protein, 60g low GI carbs, 5g sugar, 8g fibre, 420 mg salt.