Kale and cashew dip
---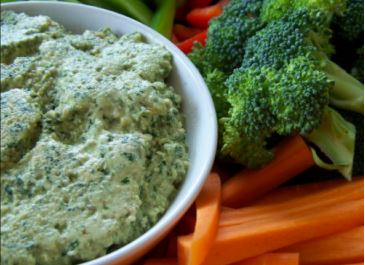 Time-saving tip: An alternate option to making your own dip is to buy a quality pot of store brought hummus. It is a great dipper for vegetable crudites, grain-based crackers or tries baked corn chips in the taste buds are a bit awry.
Ingredients
1/2 cup cashews soaked for 1 hour
11/2 cups of warm water
1 cup of shredded kale leaves
1/2 litre of boiling water
1 tbsp olive oil
1/4 clove of garlic
1 tbsp lemon juice
1/2 tbsp tahini*
2 tbsp cold water
sea salt and cracked pepper
Method
1. Soak cashews in a large bowl, cover with warm water and allow to soak for 1 hour. Drain and set aside
2. Place kale in boiling water and allow to stand for 2 minutes
3. Place cashew, kale, garlic, lemon juice, tahini, cold water, salt and pepper in blender or food processor. Blend until smooth.  Refrigerate until chilled.
4. Serve with a drizzle of good oil (olive), vegetable crudites, rye or seeded crackers.
Nutrition Information:
2 crackers with dip Per serve 214 Calories, Fat 18g, Saturated 3g, Protein 6g, Carb 11g, Sodium 49mg