Egg and Brown Rice Nasi Goreng
---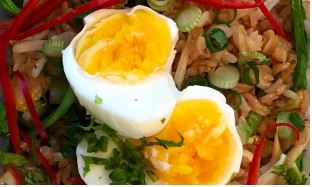 A tasty and easy vegetarian meal that sets up your week.
Ingredients
2 cloves of garlic
1 TBSP green shallots
1/2 whole chilli (jar or fresh)
100g of baby corn
1 red capsicum
1 TBSP kecap manis
1 TBSP fish sauce
a handful of bean shoots (40g)
2 cups of brown basmati rice
5g galangal (can substitute ginger)
1 TSP sambal olek (avail Asian section of the supermarket or Asian grocery stores)
6 free-range eggs
2 bunches of Asian greens eg Chye sim, Chinese spinach etc
1/3 bunch of coriander, chopped
1/2 lemon
Method
1. Chop Asian Greens into 10cm pieces.
2. Chop the coriander.
3. Cook eggs in a medium saucepan of boiling water for 4- 5 minute, cool and shell.
4. Stir fry shallots until soft and light golden.
5. Add galangal, sambal olek and half the chilli, stir-fry for 4 minutes or until softened. Transfer mixture to a plate.
6. Stir-fry baby corn until just tender.
7. Add Asian greens to the wok, stir-fry for 3 minutes. Add cooked brown rice, fish sauce, soy sauce, shallot mixture and chopped coriander, stir fry until rice is hot and leaves are just wilted. Season to taste.
8. Serve nasi goreng topped with reserved coriander leaves, remaining chilli and eggs cut in half. Garnish with lemon and extra shallots.
Nutrition Information:
1 egg and 2 cups of rice & vegetables Energy 526 Kcal, Fat 8g, Sat fat 2g, Protein 22g, Carb 94g, Sodium 784mg