Poached eggs with salmon and avocado
Cooking Time: 15 Minutes Serves: 2
---
high protein, omega 3 fatty acids, fibre, phytonutrients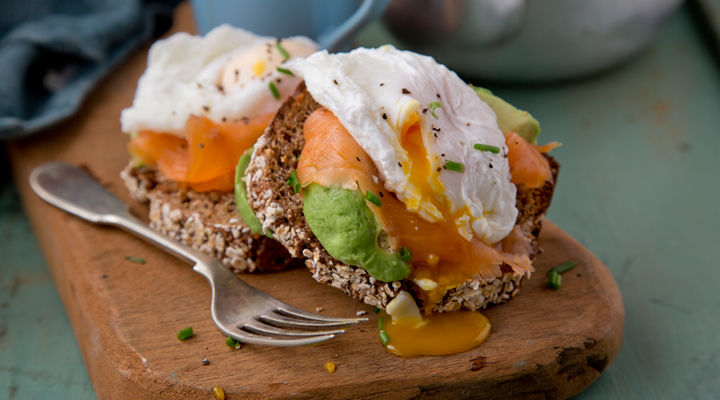 Goodness provided
A good breakfast can help set up the day.
Smoked salmon, eggs and avocado on sourdough is a firm favourite of mine and it is an ideal breakfast for people who need a healthy, but protein loaded option. As well as being delicious and indulgent, smoked salmon is a great source of protein (about 18% of its weight is protein). It also contains B-complex vitamins, as well as vitamin D, magnesium, selenium and is a great source of omega-3 fatty acids which can help with brain function and mood. Eggs are also high protein and as they provide all 9 essential amino acids they help the body to metabolise and boost the protein levels in our muscles and tissues. Avocado also is a powerhouse of healthy fats and nutrients including vitamins C, E, K, and B-6, as well as riboflavin, niacin, folate, pantothenic acid, magnesium, and potassium. They also provide b-carotene and lutein.
Avocados may even have a role to play in cancer treatment, with some research finding that phytochemicals extracted from avocado can selectively inhibit the growth of precancerous and cancerous cells and cause the death of cancer cells, while encouraging the proliferation of immune system cells called lymphocytes.
These phytochemicals have also been shown to decrease chromosomal damage caused by cyclophosphamide, a chemotherapy drug.
Ingredients
1 ripe avocado
1/2 tsp lemon juice
pinch of salt and pepper
1/2 tsp sumac
1 egg
1 large roma tomatoes
50g slice of smoked salmon
2 slices of sourdough toast
Method
Method
1. Chop tomatoes, add a splash of olive oil into a large frypan and cook at a medium heat for 5 minutes or until cooked. Sprinkle with sumac. At the same time cook the egg for 3-5 minutes.
2. Toast the sourdough bread
3. Mash the avocado and lemon juice, spread thickly over each toast. Add the smoked salmon, egg and serve with tomatoes sprinkled with sumac
Nutrition per serve: Energy:608 Kcal, Fat 26g, Sat Fat 5g, Protein 30g, Carb 68g, Fibre 12g Sodium 952mg