Chickpea bowl with freekeh, fennel & lemon yogurt
Cooking Time: 30 minutes Serves: 4
---
vegetarian (contains dairy), high protein, wholegrains, high fibre, antioxidants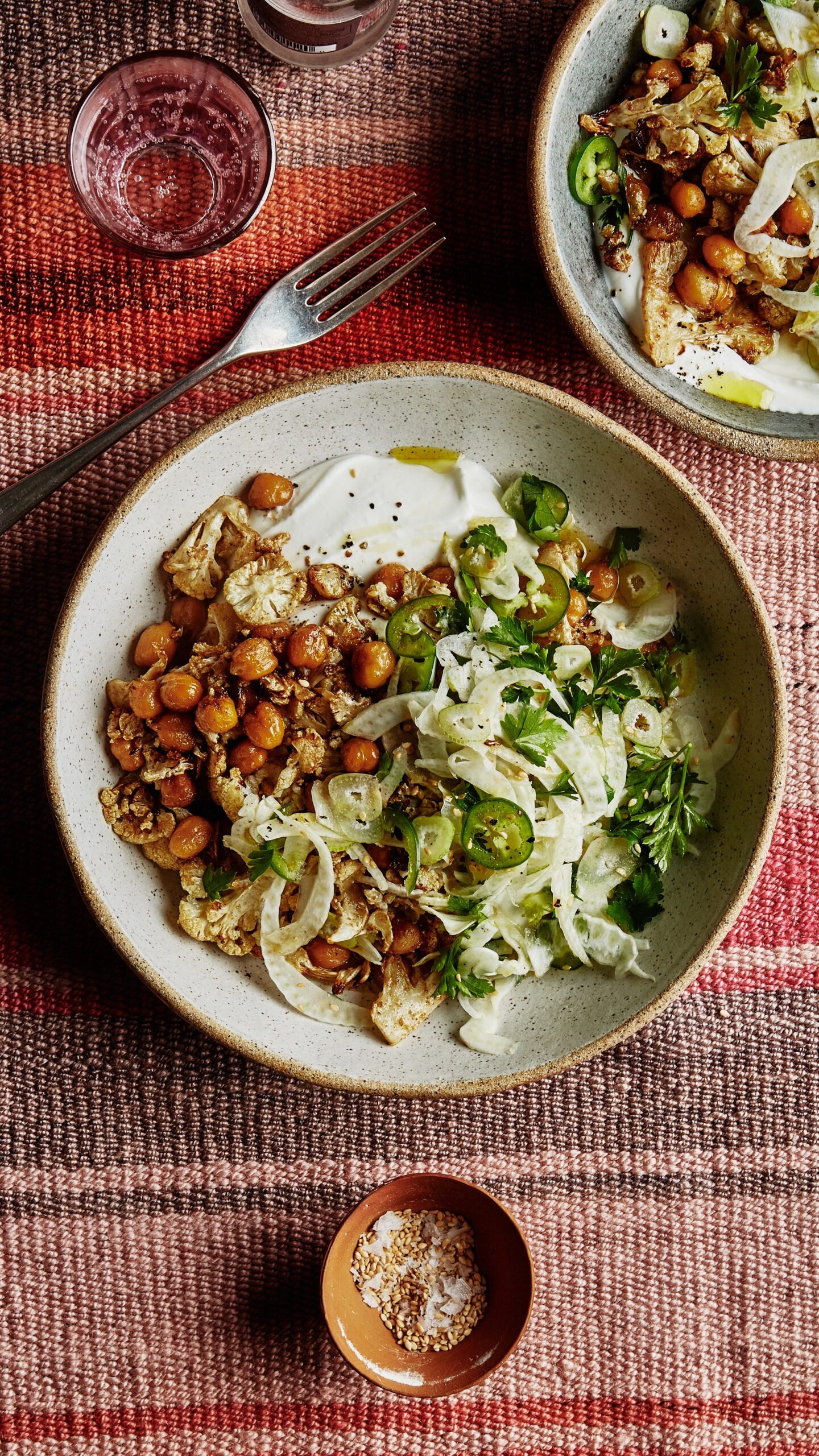 Goodness provided
This is a plant-based meal is not only delicious but a powerhouse of nutrients including protein, fibre, antioxidants and calcium. Freekeh is a low GI grain that is especially high in protein,  fibre magnesium, zinc and B vitamins–all important for bone and muscle health, as bowel function. Freekeh also contains lutein and zeaxanthin – two important carotenoids for healthy aging.
Ingredients
1 garlic clove, finely grated or crushed
1½ tsp. ground coriander
1½ tsp ground cumin
3 tbsp. extra-virgin olive oil, plus more for drizzling ½ medium head of cauliflower chopped into florets 400g can chickpeas, drained
sea salt, freshly ground pepper
¾ cup whole-milk Greek yogurt
4 tbsp. fresh lemon juice, divided
1 medium fennel bulb, halved lengthwise, very thinly sliced crosswise
1 small chili, chopped finely
1 cup coarsely chopped rocket
2 cups of frekkeh
Method
1. Preheat oven to 180C
2. Mix garlic, coriander, cumin, and 3 tbsp. oil in a large bowl. Add cauliflower and chickpeas; season with salt and pepper. Toss to coat.
3. Transfer cauliflower mixture to a paper lined baking tray. Wipeout bowl; reserve.
4. Bake, tossing halfway through until chickpeas and cauliflower are golden brown and cauliflower is tender for 15-20 minutes.
5. At the same time 2 cups of frekkeh in a large saucepan or MW bowl and cover with water, then cook on high heat for 20 minutes or until it is like a rice consistency.
6. Meanwhile, mix yogurt, 1 tbsp. lemon juice, and a big pinch of salt in a small bowl.
7. Toss fennel, chilli (if using), rocket and remaining 3 tbsp. lemon juice in reserved bowl. Mix in the drained freekeh.
8. Put the fennel and freekeh salad in a bowl, then top with the yogurt mixture and the spiced cauliflower and chickpea mixture.
Nutrition per serve
Energy:486kcal (2041KJ), Fat: 18g, Saturated Fat: 4g, Protein: 21g, Carb: 70g, Fibre: 15g, Sodium: 357mg