Chicken, Shitake Mushroom, Snow Pea and Corn Soup
---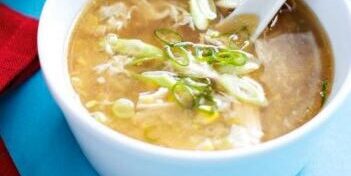 Ingredients
1 L salt-reduced chicken stock
2 garlic cloves, crushed
100g of snow peas, chopped
420g can creamed corn
50g chopped shitake mushrooms
125g can corn kernels, drained, rinsed
3 green onions, thinly sliced
2 cups shredded cooked chicken
2 TSP soy sauce
1 TBSP sweet chilli sauce (optional)
2 egg whites, lightly beaten
1/2 TSP sesame oil
1 TBSP coriander
Method
1. Place chicken stock, garlic, creamed corn, corn kernels, half the green onion and 1 cup cold water in a saucepan over medium-high heat. Cover. Bring to the boil. Reduce heat to low. Simmer for 5 minutes.
2. Add chicken, snow peas and soy sauce. Stir to combine. Simmer for 10 minutes or until heated through.
3. Gradually stir in egg white, then oil. Divide between bowls. Top with chopped coriander and extra chopped spring onion. Serve.
Nutrition Information:
Per serve: Energy 336 Kcal, Fat 10g, Sat Fat, Protein 30g, 3g, Carb 34g, Fibre 4g