Cheat's beef pho with lemongrass, ginger and garlic
---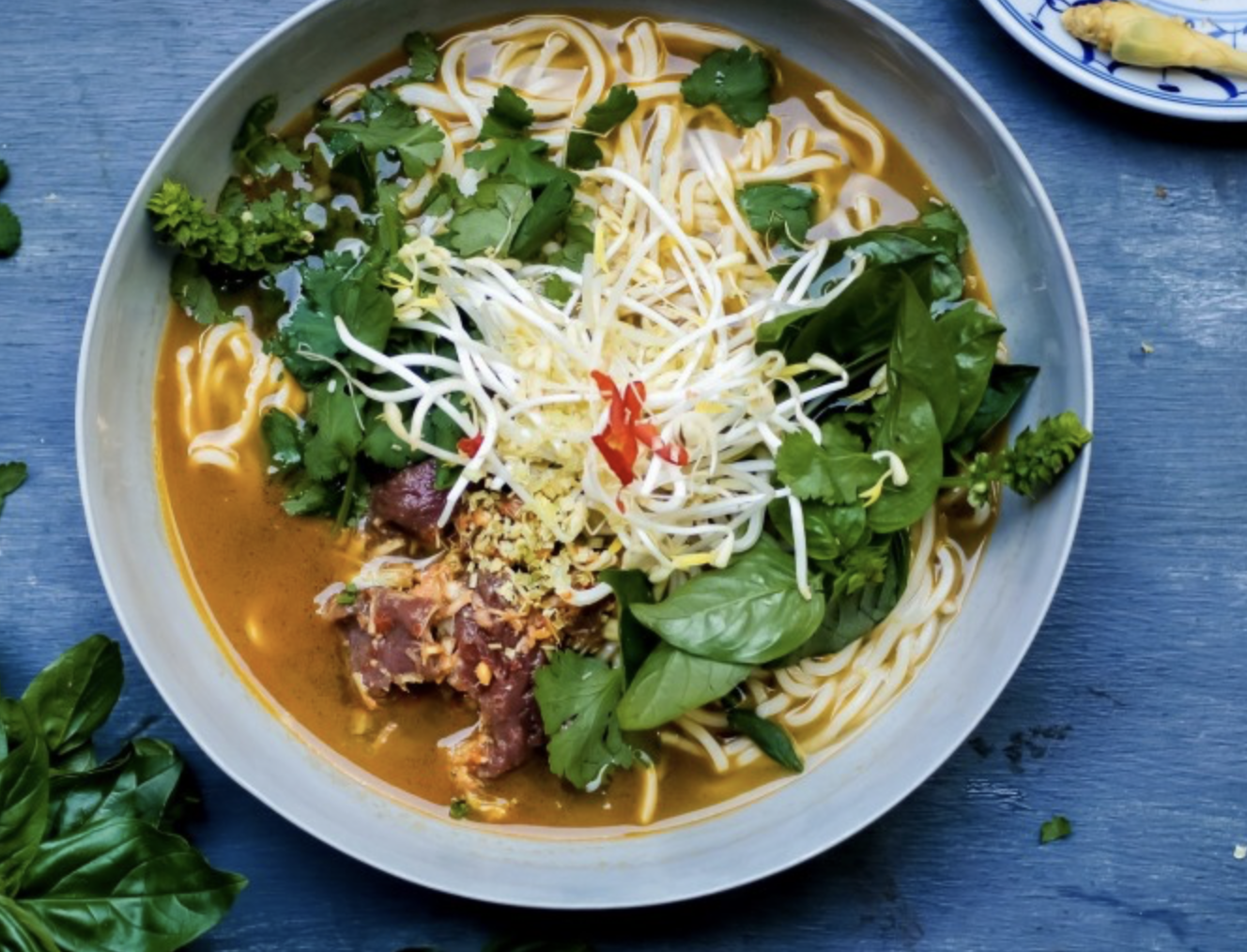 This recipe has been adapted from a good food recipe. The author has circumnavigated the slow-cooking of the beef shin or oxtail in favour of quality store-bought master and beef stocks which saves a lot of time. I have added in extra vegetables and extra lemongrass to heighten the taste hit.
Ingredients
4 stalks lemongrass, bruised, white parts only, finely chopped
1 x 5cm knob ginger, peeled, chopped
1 large garlic clove, roughly chopped
1 red chilli, deseeded and roughly chopped
1 red onion, roughly chopped
350g eye fillet, very thinly sliced
500ml beef stock
700ml master stock
3 cups fresh rice noodles
bunch of Chinese green vegetables (ie bok choy or Kai lan etc)
To serve
2 cups bean sprouts, washed thoroughly
½ red chilli, sliced
½ cup Thai basil leaves, coarsely torn
½ cup Vietnamese mint leaves, coarsely torn
Method
1. Add the lemongrass, ginger, garlic, chilli and red onion to a blender and blitz to combine. You still want some texture but it should be smooth enough so you're not choking on the woody lemongrass fibres.
2. Add half the lemongrass paste to a bowl with the steak and toss to coat, massaging some of the lemongrass mix into the beef slices. Set aside for 20 minutes.
3. Meanwhile, add the remaining lemongrass paste to a saucepan with the stocks and bring to the boil. Reduce the heat and simmer for 20 minutes. Strain into a clean saucepan if you like a clear broth or just leave as is and add the noodles to warm through until tender. Bring back up to a rolling boil then ladle into serving bowls. Top with the thinly sliced beef and the chinese green vegetables (they will cook in the residual heat of the broth), the bean sprouts, chilli and herbs and serve.