Arne's green meat balls
---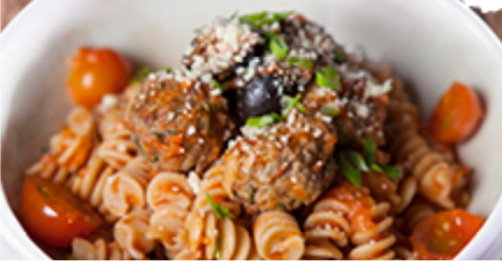 SOFT MEAL RECIPE - SERVE 4
Canutrition tip: There is so much to say about tomatoes, especially when they are canned and cooked with a dash of olive oil for around 30 minutes. As the combination of cooked tomatoes and oil means the potent phytonutrient in tomatoes called lycopene is 2-3 times more bioavailable as uncooked tomatoes. Diets rich in tomatoes and lycopene have been associated with a reduction in DNA skin ageing, protection against sunburn, a reduction in prostate cancer by around 35% (including the aggressive types), along with stomach and lung cancers.
Ingredients
1/4 cup olive oil
500 g lean beef mince
2 tbsp plain flour
1 large beaten egg
1 tsp oregano
1 onion
1 small zucchini grated
small bunch of basil
2 cloves garlic
black pepper and salt to taste
1 small eggplant chopped (optional)
700g passata sauce or 2 x quality basil
and tomato pasta sauce
3 cups of w'meal pasta fueslli
1 tbsp shredded basil
4 tbsp grated parmesan
4 tbsp of seeded black olive
Method
Mix together the mince, oregano, onion, grated courgettes, basil, salt, pepper, crushed garlic and beaten egg. Mix well and then roll up small meatballs. Roll in seasoned flour and refrigerate for 30 minutes.
Roast eggplant cut into small bite-size pieces in the oven, sprinkle with salt and add a drizzle of olive oil. Bake for 30-40 minutes.
Heat the oil in a frypan over medium heat and cook the meatballs, turning, for 3-4 minutes until browned all over.
Add tomato passata sauce and 1/2 punnet of a fresh cherry tomato to the frypan, then season. Reduce the heat to low and simmer, stirring occasionally, for 5-6 minutes until slightly reduced. Add in cooked meatballs.
Meanwhile, cook the pasta in a saucepan of boiling, water according to the packet instructions.
Serve the pasta and top with the meatball sauce. Garnish with basil and parmesan.
Nutrition Information:
3-4 meatballs, 90g cooked pasta
Per serving: Energy 722 kcal, 22g fat, 6g saturated, 45g protein, 87g low GI carbs, 8g sugar, 13g fibre, 733 mg salt