Weekly menus, shopping lists and preps steps that delivers more
HOW DO THE CANcook MENUS WORK
CANcook is a new menu and recipe program that has been crafted by Jane to help you find an easier way to prepare healthy and nourishing meals. While the recipes are family-friendly, they have been re-worked to cram in more of the vital nutrients. They also work like a DIY Hello Fresh or Marley spoon. The only difference is that you pick up th ingredients that suit you and that are not overly packaged in small serve portions. This is easy if you take a list to the supermarket or order on line once a week.
WHAT THE BUNDLE INCLUDES
There are six weeks of menus and each week arms you with a carefully crafted menu plan, the shopping list, recipes, and instructions that show you can POWER PREP or batch cook a week's worth of meals in one go.
A trial of the menus is included with an initial consultation with Jane, or they are available for download on the CANutrition.
After you sign up you will be sent the CANcook menu and meal prep program. This includes 6 weeks of inspirational and family-orientated meals.
You will learn the real art of eating well, as well as (re)-discover eating and cooking to help you to enjoy and be able to do more.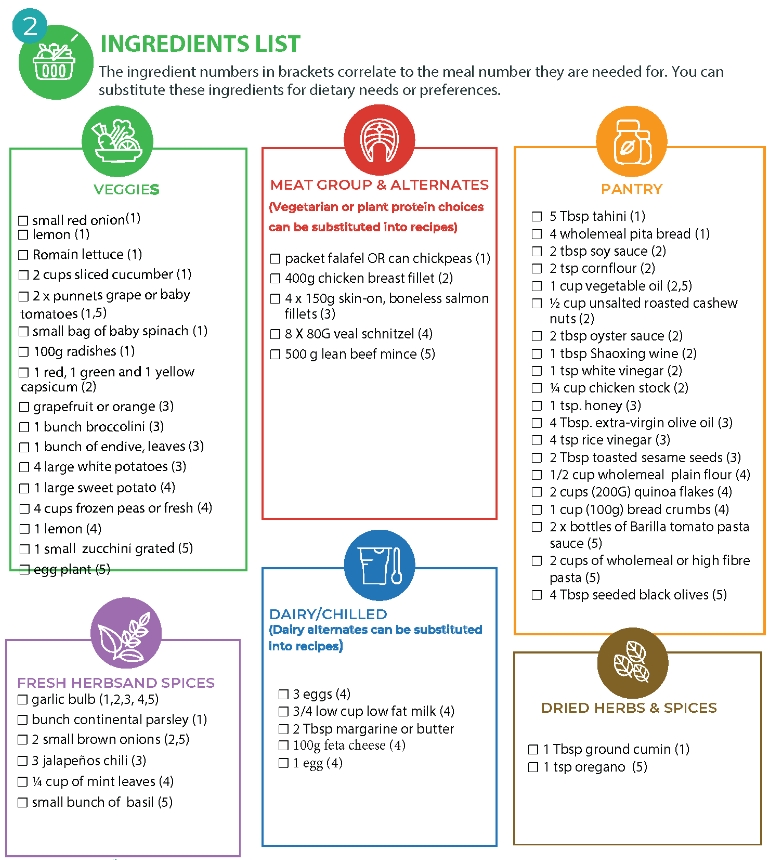 Each menu comes with a weekly ingredient list which enables you to check off what you need or do not need to buy. Each ingredient is number marked to the main dishes and so gives you the option if you don't want to make a particular dish or want to adapt the recipe for a special need or a better value buy. Time can also be saved by ordering groceries online or at least just being organised so that you only have to do one trip a week to the supermarket.

PART PREP MEALS IN ADVANCE
The recipes have been set out so that you have the option to part prep some or up to five meals in advance in a bulk prep session. Setting some time aside at the start of the week to do a bit of the week's meal prep will change the way you eat and the feeling you have when you arrive home with the thought of what am I going to cook for dinner. The prepared meal bases can be stored in the fridge for up to 3-4 days or in the freezer for up to 2 months. The CANcook recipes can also be given to friends or family members who want to help you out with a meal drop. Otherwise, my tip is to put on some wireless headphones and enjoy feeling organised whilst listening to an audiobook, podcast or music.

ENJOY THE FEELING OF MEAL TIME MAGIC
With a clear menu plan, the ingredients needed on hand, a bit of advanced meal prep, you will be able to serve up speedy, delicious dinners that will give you magic feeling. All meals are designed to be quick and easy and if you manage to do the prep in advance the final steps needed to serve up should only take around 10 minutes or so.